Ukrainian pilot Nadiya Savchenko burst into song as she was handed a 22-year sentence for directing artillery fire that killed two journalists near Lugansk, in Eastern Ukraine. In a trial which Human Rights Watch (HRW) condemned as unfair due to the banning of "crucial" evidence, the Ukrainian nationalist was also convicted of crossing the border to Russia illegally and the attempted murder of civilians.
Savchenko was arrested in June 2014 and accused of relaying coordinates of a checkpoint where two Russian journalists were killed by the Ukrainian Aidar battalion artillery fire. A lawyer for the 34-year-old said that they possessed phone records that prove she was captured by pro-Russian rebels before the attack took place.
She said she was trying to reach fighters from her own volunteer force who had been wounded in an ambush. Since captured she has become a politician with the pro-Europe All-Ukrainian Union "Fatherland" or Batkivshchyna party.
Savchenko denied the charges and during the trial, in the southern Russian town of Donetsk, she struck a tone of defiance. As the judge told her about the sentence, she sung a folk protest song in the courtroom. Her attorney, Nikolai Polozov, said she would "not appeal against this illegal verdict".
Supporters took to the streets of Ukraine and former Soviet states to show support for the Kiev-born pilot. After her capture, which she describes as a kidnapping, tension increased between Russia and Ukraine, with Kiev saying that her detention is illegal.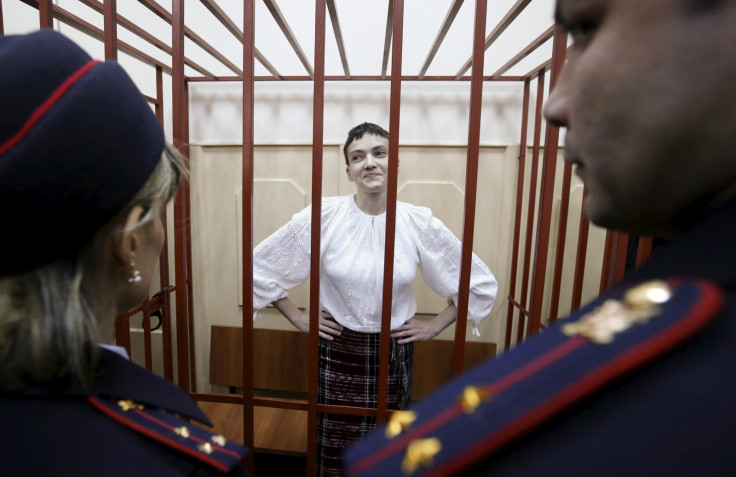 Ukrainian President Petro Poroshenko said his country would not accept the verdict and that Savchenko is a prisoner of war that should be returned. According to the BBC, the president said he is ready to exchange two Russian soldiers for Savchenko.
The judge said: "Savchenko does not suffer from dementia, mental illness has not been established, she was aware of the extent and social danger of her actions, it was not a fit of passion." They also said her crimes were due to a political hatred of Russia.
Savchenko has threatened to go on a "dry hunger strike" in April. HRW said the court had "refused to admit crucial defence evidence and consistently rejected important defence motions, making it impossible for her legal team to effectively challenge the allegations against her as fair trial standards require."
Initial Russian media reports claimed that Savchenko had been found guilty the day before the verdict had been handed out. However several news organisations were forced to retract stories prematurely reporting the verdict when it was revealed that the judge had in fact been reading out the prosecution case.