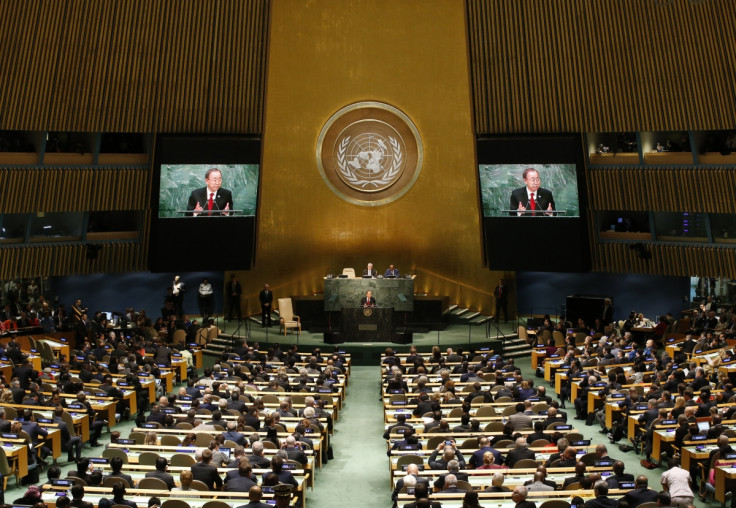 Another 38 state representatives are due to speak at the United Nations' General Debate in New York on 29 September, after an intense opening day saw the diplomatic showdown between US president Barack Obama and his Russian counterpart Vladimir Putin take the central stage.
Paul Kagame of Rwanda will start the dance in a day dominated by African countries, with 13 speakers from the continent. They will address the 70th session of the General Assembly, the theme of which is: "The United Nations at 70 – a new commitment to action".
The crisis in eastern Ukraine and Russia's perceived neo-imperialism are likely to be high on the agenda, as speakers include Ukrainian president Petro Poroshenko and delegates from two of three Baltic States: Estonian president Toomas Hendrik Ilves and Lithuanian leader Dalia Grybauskait.
Italy's Matteo Renzi, Venezuela's socialist president Nicolas Maduro, Japan's hawkish Shinzo Abe, and Thailand's junta leader General Prayut Chan-o-Cha are also to address the audience.
Second last on the podium will be British foreign secretary Philip Hammond, substituting for prime minister David Cameron, who is in New York but will be attending meetings with anti-Islamic State coalition allies and the Turkish government instead.
You can watch all the speeches with a live English translation here:
UN 70th General Assembly second day speakers
1. Rwanda - H.E. Mr. Paul Kagame
President
2. Guyana- H.E. Mr. David Arthur Granger
President
3. Namibia - H.E. Mr. Hage Geingob
President
4. Tadjikistan - H.E. Mr. Emomali Rahmon
President
5. Finland - H.E. Mr. Sauli Niinistö
President
6. Mongolia - H.E. Mr. Elbegdorj Tsakhia
President
7. Romania - H.E. Mr. Klaus Werner Iohannis
President
8. Cameroon - H.E. Mr. Paul Biya
President
9. Colombia - H.E. Mr. Juan Manuel Santos Calderón
President
10. Ukraine - H.E. Mr. Petro Poroshenko
President
11. Swaziland - H.M. Mr. King Mswati III
Head of State
12. Cyprus - H.E. Mr. Nicos Anastasiades
President
13. Sierra Leone - H.E. Mr. Ernest Bai Koroma
President
14. Malawi - H.E. Mr. Arthur Peter Mutharika
President
15. Uruguay - H.E. Mr. Tabaré Vázquez
President
16. European Union
17. Japan - H.E. Mr. Shinzo Abe
Prime Minister
18. Kuwait - H.H. Sheikh Jaber Al Mubarak Al Hamad Al Sabah
Prime Minister
19. Italy - H.E. Mr. Matteo Renzi
Prime Minister
20. United Republic of Tanzania - H.E. Mr. Jakaya Mrisho Kikwete
President
21. Armenia - H.E. Mr. Serzh Sargsyan
President
22. Venezuela (Bolivarian Republic of) - H.E. Mr. Nicolás Maduro Moros
President
23. Liberia - H.E. Mrs. Ellen Johnson-Sirleaf
President
24. Zambia - H.E. Mr. Edgar Chagwa Lungu
President
25. Estonia - H.E. Mr. Toomas Hendrik Ilves
President
26. Dominican Republic - H.E. Mr. Danilo Medina Sánchez
President
27. Lithuania - H.E. Ms. Dalia Grybauskait
President
28. Seychelles - H.E. Mr. James Alix Michel
President
29. Czech Republic - H.E. Mr. Miloš Zeman
President
30. Mauritania - H.E. Mr. Ould Abdel Aziz
President
31. Yemen - H.E. Mr. Abdrabuh Mansour Hadi Mansour
President
32. Gambia - H.E. Mr. Aja Isatou Njie-Saidy
Vice-President
33. Thailand - H.E. Mr. General Prayut Chan-o-Cha
Prime Minister
34. Saint Vincent and the Grenadines - H.E. Mr. Ralph Gonsalves
Prime Minister
35. Tunisia - H.E. Mr. Habib Essid
Head of Government
36. Tonga - H.E. Mr. Samuela 'Akilisi Pohiva
Prime Minister
37. United Kingdom of Great Britain and Northern Ireland - H.E. Mr. Philip Hammond
Foreign Secretary
38. Australia