Boko Haram militants ambushed a convoy of United Nations humanitarian aid workers in Borno State of Nigeria on Thursday (28 July), leaving two Nigerian soldiers and three civilians, including UN aid workers, injured, a Nigerian army spokesman said.
The convoy was returning from Bama, a town in Borno, after providing relief material to some displaced locals when they were attacked by the Islamists.
Colonel Sani Kukasheka Usman, Nigerian army spokesman, said the attack took place when the convoy was on its way to Maiduguri, the capital of Borno, from Bama. "Troops returning from Bama on humanitarian escort duty, were ambushed en route to Maiduguri by suspected remnants of Boko Haram terrorists hiding in Meleri village, a few kilometres from Kawuri," Usman said in an email statement.
"The gallant troops, however, successfully cleared the ambush. Unfortunately, two soldiers and three civilians were wounded in the ambush, among whom were staff of United Nations agencies and other international humanitarian organisations.
"The wounded have been evacuated to the University of Maiduguri Teaching Hospital, Maiduguri, and they are in stable condition," he added.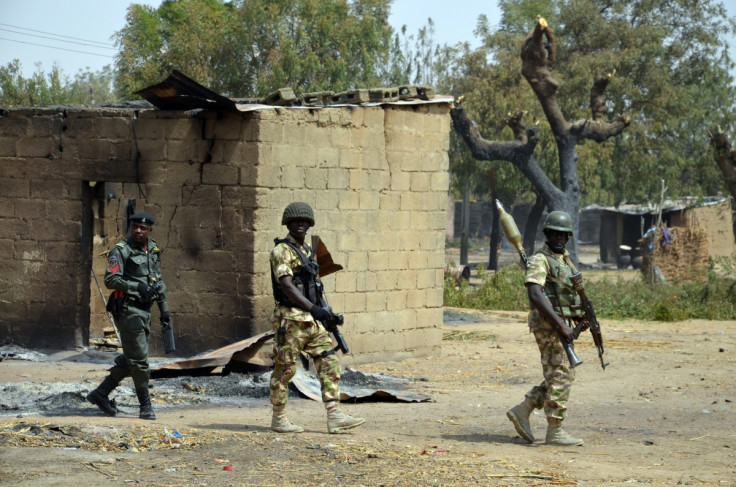 The Associated Press reported that a Unicef employee and a worker for the International Organisation for Migration were among the wounded.
The incident took place four days after volunteers of Doctors Without Borders who were going in a convoy narrowly escaped being killed by landmines planted in an area close to Thursday's ambush site, Premium Times Nigeria reported.
Meanwhile, in another incident the same day, the Multi National Joint Taskforce (MNJTF) captured and occupied Damasak, a town in northern Borno located on the borders of Nigeria and Niger Republic.
Muhammad Dole, the chief Military Public Information Officer and spokesperson of MNJTF, was quoted by the Nigerian online daily as saying that their soldiers also cleared the surrounding villages and drove out all remaining militants. "The forces are coordinating to stabilise the immediate environs. The gallant troops fought their way into the town with close air support from MNJTF member states," the colonel said.