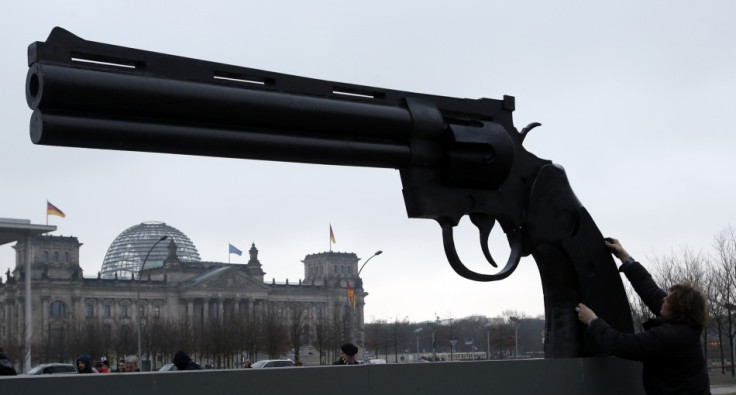 The UN general assembly has approved a historic arms trade treaty that would regulate the trade of weapons between countries for the first time.
Despite intense pressure from the influential National Rifle Association (NRA) of the United States, the assembly has approved the measure, called the Arms Trade Treaty (ATT) by 154 votes to three. There were 23 abstentions.
Arms trade control talks have gone on for years. Iran, North Korea and Syria blocked the latest treaty draft, prompting its advocates to put it before the UN general assembly to adopt it.
The ATT will set standards for all cross-border transfers of any type of conventional weapon in a trade worth $70nb a year. All signatory nations are expected to review all cross-border arms contracts to be sure that weapons are not used in human rights abuses, terrorism or violations of humanitarian laws.
Under the treaty, governments will be required to deny the export of weapons to countries that would be likely to use them to violate human rights or commit genocide. All weapons will be covered, including battle tanks, helicopters, warships, missiles and combat aircraft.
However, countries will still need to sign and ratify the treaty from early June. It will go into effect as international law once 50 nations have ratified it.
"It is fair to say that it will be a very, very long time until the US Senate ratifies this treaty," said Mark Leon Goldberg on UN Dispatch.
"This treaty has absolutely nothing to do with domestic arms sales or domestic gun laws but the NRA has done a good job of demagoguing the treaty and stirring up opposition among second amendment advocates."
Several nations such as Syria, Cuba and Nicaragua argued that the treaty could be abused as a means to provoke political pressure.
But rights group believe it could have an important long-term impact on the illegal arms trade.
"The Arms Trade Treaty provides a powerful alternative to the bodybag approach used to respond to humanitarian crises," said Ray Offenheiser, the president of Oxfam America.
"Today, nations enact arms embargos in response to humanitarian crises only after a mass loss of life. The treaty prohibits the weapon sales in the first place."
Amnesty International praised the treaty, saying that UN has put "human rights at the heart of it".
"The world has been waiting a long time for this historic treaty. After long years of campaigning, most states have agreed to adopt a global treaty that can prevent the flow of arms into countries where they will be used to commit atrocities," said Brian Wood, head of arms control and human rights at Amnesty International.
"Despite Iran, North Korea and Syria's deeply cynical attempt to stymie it, the overwhelming majority of the world's nations have shown resounding support for this lifesaving treaty with human rights protection at its core."