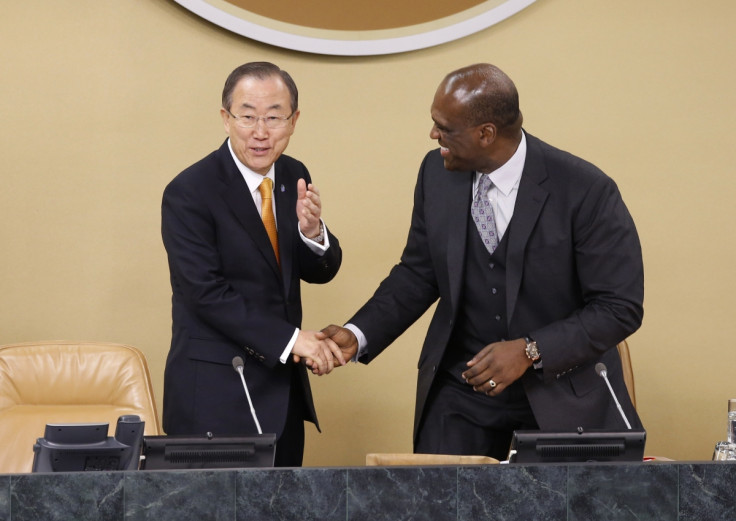 John Ashe, former president of the United Nations General Assembly (UNGA), and five others have been charged for engaging in a wide-ranging corruption scandal. US prosecutors said Ashe turned the international body into a "platform of profit".
Ashe, a former UN ambassador from Antigua and Barbuda, faces corruption charges for accepting more than $1.3m (£850,000) in bribes from Chinese businessmen. The 61-year-old diplomat was heading the UN's 68th General Assembly in 2013-14.
US attorney for Manhattan, Preet Bharara, who announced the charges in a news conference, said: "In return for Rolex watches, a basketball court and bespoke suits, John Ashe sold himself and the global institution he led. United by greed, they converted the UN into a platform for profit."
"If proven, today's charges will confirm that the cancer of corruption that plagues too many local and state governments infects the United Nations as well," Bharara added.
Real estate mogul from Macau, Ng Lap Seng, and a deputy UN ambassador from the Dominican Republic, Francis Lorenzo (who lives in Bronx), are also at the centre of the scandal.
New York prosecutors have alleged that Ashe used his position as chief of the UNGA to approve constructing a multibillion-dollar UN-sponsored conference centre in Macau. Ng, 67, had allegedly paid Ashe more than $500,000 in bribes for the construction of the conference centre. The alleged scheme extended from 2011 to 2014. In addition to that, Ashe was accused of pocketing $800,000 in bribes from other Chinese businessmen as well.
Meanwhile, the UN Secretary-General Ban Ki-moon has said he was "shocked and deeply troubled" by the alleged scandal. Ban's spokesperson, Stephane Dujarric, said: "We obviously just learned of the very serious allegations this morning. These allegations go to the heart of the integrity of the United Nations." Contesting Bharara's claims, Dujarric added: "Corruption is not business as usual at the UN."
Ng and his assistant Jeff Yin were arrested in September this year for illegally bringing around $4.5m in cash into the US. The duo already face multiple bribery-related charges.