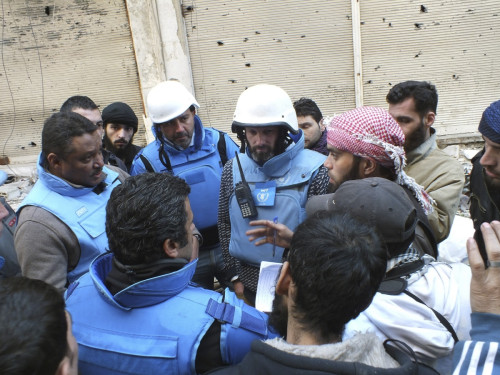 The United Nations has expressed concern over the latest attack on humanitarian aid convoys in the troubled central Syrian city of Homs, which has violated a ceasefire agreement.
The UN-led convoys came under intense mortar and gunfire as they attempted to supply aid to trapped civilians.
Several trucks were damaged and one driver was slightly injured in the attack.
Scores of vehicles and aid officials remained trapped for several hours following the incident, but they were eventually able to escape, leaving behind two trucks, Syria's Red Crescent said.
"Although the team was shelled and fired upon, we managed to deliver 250 food parcels [and] 190 hygiene kits and chronic disease medicines," said the Red Crescent.
Both the Syrian regime led by President Bashar al-Assad and the rebels have blamed each other for the attack.
A Syrian state television report said "armed terrorist groups" carried out the attack.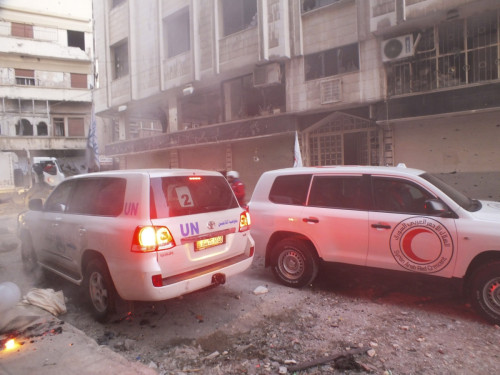 The UN mission was engaged in supplying food and medicine to some 2,500 people who have been badly affected by the ongoing civil war in the war-torn rebel-held city of Homs.
Supplying aid and evacuation of civilians from Homs were the key elements agreed by both the opposition and the Syrian regime at the recent peace conference in Geneva.
Condemning the ceasefire violation, UN humanitarian chief Valerie Amos said: "I am deeply disappointed that the three-day humanitarian pause agreed between the parties to the conflict was broken today and aid workers deliberately targeted. Today's events serve as a stark reminder of the dangers that civilians and aid workers face every day across Syria."
She added: "I continue to call on those engaged in this brutal conflict to respect the humanitarian pause, ensure the protection of civilians and facilitate the safe delivery of aid. The United Nations and our humanitarian partners will not be deterred from doing the best we can to bring aid to those needing our help."