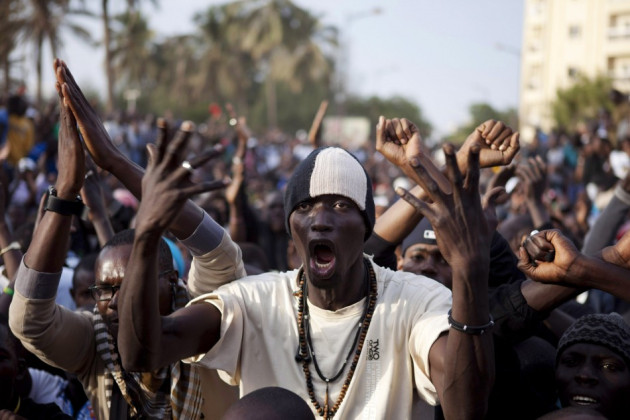 UN Secretary General Ban Ki-Moon has warned Senegal that he is concerned about the upsurge in violence in the country in the run-up to elections and urged people to pursue peaceful means to resolve their grievances.
Demonstrators gathered in Dakar to express dissent over President Abdoulaye Wade's candidacy in next month's elections. An angry crowd held up signs and chanted slogans in the Place de l'Obelisque in the downtown area of the capital.
The protests in central Dakar were triggered after two civilians were killed by paramilitary police in a rally in the northern city of Podor.
The constitutional court has validated Wade's candidacy for the presidential elections. The embattled president argued that a new law forbidding re-election was not retroactive and did not apply to him. The constitution was revised in 2001 to impose a two-term limit.
Four people have been killed in the protests, including a policeman who was stoned to death by demonstrators.
The rally was organised by the June 23 Movement (M23), formed last year to opposed Wade's plans to run for a third term.
Presidential spokesman Serigne Mbacke Ndiaye downplayed the protests, claiming they were a failure. "If 13 candidates supported by nearly 70 political parties and civil society organisations only managed to mobilise 2,500 people, it proves Abdoulaye Wade holds a majority in Senegal," he said.
But an M23 spokesman told AFP that the rally was a success. "Our capacity for mobilisation has not been contradicted - the movement achieved maximum mobilisation," he said.
The country's opposition parties pledged to press on with their campaign against the president's ambition to remain in power.
Senegalese activist Alioune Tine, a prominent member of the African Assembly for the Defence of Human Rights, has been freed without charge after two days in jail.
Upon his release, Tine told AFP that he had been interrogated about the movement's plans.