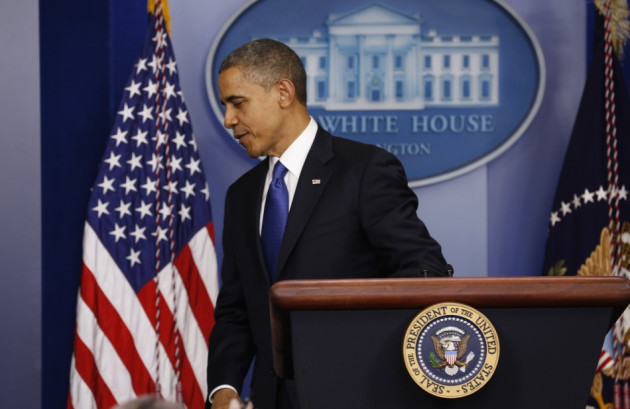 US President Barack Obama is set to meet congressional leaders later in the day in a bid to strike a deal on the $600bn spending cuts and tax hikes.
Cutting short his Hawaii holiday, the president, along with Vice President Joe Biden, will meet the leaders of both parties at the White House.
The House Republicans are also set to meet for a session over the weekend, potentially paving the way for a last-minute scramble to find a solution to the issue. In a new development, Senate Minority Leader Mitch McConnell has also joined direct talks with White House for the first time.
Lawmakers remain mixed on the prospects of reaching a deal, with some suggesting a flicker of hope while others indicating a failure. Addressing the Senate, Democrat Harry Reid said that there did not appear to be enough time to reach a deal before the year-end.
Criticising the opposition for not considering a Democratic proposal, Reid said that a solution to the fiscal crisis had been right in front of the Republicans for "days and days and days".
In a speech on the Senate floor, Mitch McConnell retorted that the "Republicans aren't about to write a blank cheque for anything Senate Democrats put forward just because we find ourselves at the edge of the cliff".
"We'll see what the president has to propose. Hopefully, there is still time for an agreement of some kind that saves the taxpayers from a wholly preventable economic crisis," he added.
There are also suggestions that Congress might look to extend the deadline by two days. House Majority Leader Eric Cantor has asked members to be ready for the talks to spill over to 1 and 2 January.
Some have also reportedly opined that the frenzied activity from both the parties just before the deadline may be more about putting the blame on the other for derailing the talks. The White House continues to suggest that it is up to the Republicans to make compromises.
"The only way America goes over the cliff is if the Republican leaders in the House and the Senate decide to push us by blocking passage of bills to extend tax cuts," White House communications director Dan Pfeiffer was quoted by New York Times.
"It's a question of their willingness to put country before party."
Deadlock over the talks have kept Washington divided in recent weeks and it now looks all set to end the year with fierce wrangling over numbers and blame-games, since both parties continue to remain at odds on taxes and spending.