A Twitter user who set up a spoof account to make fun of Northcliffe Media chief executive Steve Auckland has filed a legal case in the US to stop Twitter handing over his personal details.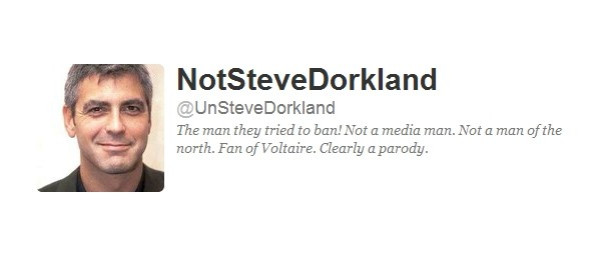 Northcliffe Media had issued a subpoena to Twitter to force it to reveal the identity of the person behind the usernames @UnSteveDorkland, @SteveDorkland and @Northcliffestev.
The subpoena would have forced the micro-blogging company to hand over "all documents in Twitter's possession relating to [the] three usernames."
"John Doe hereby moves the District Court in the Northern District of California to quash the Subpoena issued by Plaintiff-Respondent Northcliffe Media Ltd on or around July 12, 2012, to non-party company Twitter," the document challenging the subpoena states.
Twitter said it would have complied with the subpoena if the legal action to quash it had not been launched.
Northcliffe is seeking damages for online defamation and impersonation, as well as costs relating to computer data access and fraud.
The legal document filed on behalf of the anonymous Twitter user claims Northcliffe Media's subpoena fails to meet the First Amendment requirements imposed on anyone who uses the discovery process to try and obtain the identity of anonymous online speakers.
The case to have the subpoena quashed will be heard on 6 September in a San Francisco US district court.
The arguments in the legal filing from John Doe, which cites numerous previous cases, claims that the underlying identities of anonymous critics of powerful and public figures have a long and constitutionally-protected history in America.
It also says Northcliffe has not followed basic legal procedures, probably because it did not expect the case to be challenged.
"[Northcliffe's complaint] is devoid of a single quotation from the allegedly defamatory tweets, or a single evidentiary fact to support its additional causes of action for 'hacking' or 'impersonation'," the legal document continues.
"The subpoena should be quashed, the complaint dismissed, and plaintiff's counsel sanctioned for their blatant disregard of the rules of this court."
The full court filing on behalf of John Doe can be found online here.