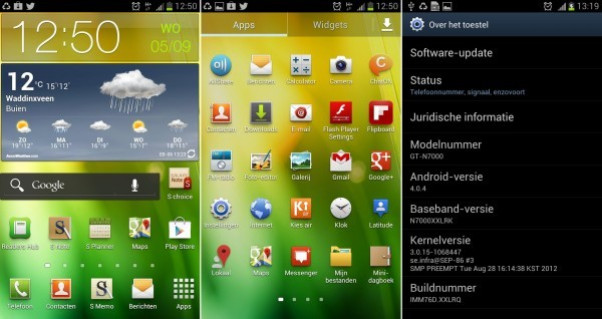 Owners of older Samsung Galaxy devices are in for a pleasant surprise, as more and more ICS (Ice Cream Sandwich) updates are being made available. Thanks to the industrious efforts of Android developers, a new Android 4.0.4 firmware update - XXLRQ - that hit Galaxy Note in Germany is now available for download across the world.
The new ICS firmware flaunts a rich feature set including home screens borrowed from Galaxy S3, S-Cloud cloud backup service and a new home-screen launcher. This implies the handset maker's attempt at porting refreshingly exciting features from newer devices to older ones like Galaxy Note.
According to the XDA developer - Garytube, here is the complete list of features ported through the XXLRQ firmware update:
New launcher (like the Galaxy S3)
New gallery with fancy 3D effects
Pop-up video can now be resized
Slightly changed contact list layout
You can now save contacts in the S-Clound (like google contacts)
Added S-Cloud (there is no dedicated App but after flashing you will be asked if you want to sycn all your settings with Samsung)
Added new motion: call contact currently displayed if you raise the phone
Added bloatware (NTV, Lieferheld, ChatOn, myTaxi)
Key Points to Note
Though this update is presently available via Over-The-Air (OTA) in Germany through Samsung's KIES software, those who prefer manual updates or those residing outside Germany can grab this firmware and flash it on their Galaxy Note using this guide.
Although, the update is a German version, it will work fine on the international variant of Galaxy Note from any country or region.
The ROM and the instructions in the guide are applicable only for the international variant Galaxy Note N7000 and will not work with any other device. Verify your device's model number by navigating to Settings > About phone.
It is important to install the correct drivers for your handset on the computer. If you have Samsung's KIES software installed, it already contains the necessary drivers for your handset and you could skip this step. Else, download and install the drivers from the following links on your computer: 32 bit (x86) Windows |64-bit (x64) Windows
IBTimes UK advises users to backup apps, important personal data and settings to avoid data loss while performing the ICS update.
The instructions provided in this guide are meant for reference purpose only and do not cover any warranty claims involving device damage or issues arising out of using the Android 4.0.4 ICS firmware.
How to Install XXLRQ Based Android 4.0.4 ICS Update on your Galaxy Note
Step 1: Extract the N7000XXLRQ_N7000DBTLRQ_DBT.zip file to get a file named N7000XXLRQ_N7000DBTLRQ_N7000XXLRK_HOME.tar.md5 (please note the file name may end with .tar, as the .md5 extension may be hidden, which is normal).
Step 2: Download Odin 1.85 from here.
Step 3: Extract the contents of the Odin zip file to a desired folder or location.
Step 4: Unplug your phone from the PC and power it off.
Step 5: Now, place the Galaxy Note in Download Mode with a button sequence. Press and hold Volume Down, Home and Power buttons together until a Warning! screen pops up. Then, press Volume Up key to progress into the Download Mode.
Step 6: Launch Odin - double-click the Odin3 v1.85.exe that you obtained after extracting the file - Odin 1.85.zip.
Step 7: Now, click PDA button in Odin, then browse and select the N7000XXLRQ_N7000DBTLRQ_N7000XXLRK_HOME.tar.md5 file you got in step 1. Leave all other settings at default in Odin and ensure the Re-Partition option is not selected.
Step 8: Connect your phone to PC and you should see the message "Added!" under Odin's message box in the bottom left.
If this message did not appear, then it could be an issue with drivers. Verify that correct drivers are installed for your handset (check prerequisites). Also, try uninstalling Kies from the Control Panel if it is already installed.
Step 9: Finally, tap the START button to begin flashing the firmware on the phone. Once flashing is complete, your phone will automatically reboot - and when you see the Samsung logo, you can safely unplug the USB cable. At the same time, you'll also get a PASS message (with green background) in the left-most box at the very top of Odin.
What to do if Odin gets stuck: If ODIN gets stuck and doesn't seem to respond, or you get a FAIL message (with red background) in ODIN, unplug the phone from the PC, close ODIN, remove battery, re-insert it, then repeat the procedure from step 5.
Step 10: [Important] After you get the PASS message and the phone reboots, the phone might get stuck at the booting animation/Samsung logo. In such cases, do the following steps to make it boot. It must be noted that these steps will wipe your personal data like contacts, apps, messages, etc. If your phone has already booted, skip these steps, and the flash has been successful:
Boot to recovery mode - first power off phone (by removing battery and reinserting it). Then, boot into recovery. To do this, press and hold the Volume Up, Home and Power buttons together. When the screen powers on, release the buttons to boot into recovery. Once you enter recovery mode, use volume keys to navigate and power key to select the option.
Tap Wipe data/Factory Reset and click Yes to confirm on next screen.
Then, hit reboot system now to reboot the phone, and it should boot properly now.
The XXLRQ based Android 4.0.4 update is now successfully installed on your Galaxy Note.
[Source: The Android Soul]