US and China Agree to Eliminate Technology Trade Tariffs in Landmark Beijing Deal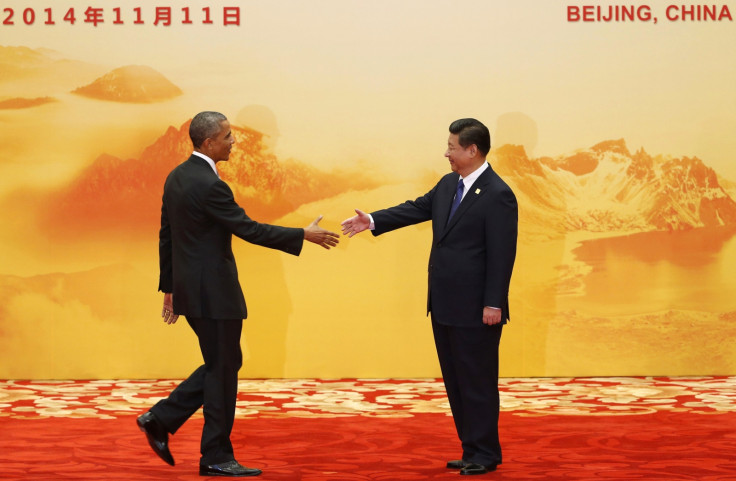 China and the US have agreed to eliminate tariffs on a host of technology products – a move which could add $190bn to global GDP.
The two trading powers overcame a succession of longstanding disagreements over the Information Technology Agreement (ITA), an existing trade deal which represents 97% of the world's trade in IT products.
The 78-nation ITA has been in existence since 1996, but efforts to expand it had been frustrated by Chinese resistance. It's thought that with China and the US coming to what President Barack Obama described as "an understanding" in Beijing overnight, the rest of the WTO members signed up to the ITA will move swiftly to approve measures to reduce trade tariffs.
Obama said the understanding would "contribute to a rapid conclusion to the broader negotiations in Geneva".
The agreement, signed at the Asia-Pacific Economic (Apec) Summit in Beijing, was described by the US Trade Representative Michael Froman as the first major WTO tariff cutting initiative in 17 years.
"We're going to take what's been achieved here in Beijing back to Geneva to work with our WTO partners. While we don't take anything for granted, we're hopeful that we'll be able to work quickly," he told reporters.
Talks had broken down in 2013 after China refused to remove tariffs on up to 200 kinds of technology products. It's understood that most of these will now be removed, after US negotiators convinced China, by some distance the largest exporter of technology goods, that it stands to benefit greatly from the deal.
The USTR website says that among those technologies included in the agreement are "medical equipment, GPS devices, video game consoles, computer software and next generation semiconductors".
Froman described the ITA development as "encouraging" for US-China relations and said it could be make sales worth $1tn tariff-free and create 60,000 jobs in the US. The deal could be ratified by December.
In a statement welcoming the agreement, the executive vice-president of the US Chamber of Commerce Myron Brilliant said: "With so many new products created since the ITA was concluded two decades ago, expanding the agreement's coverage is imperative. With trade in tech goods surpassing $4tn annually, the commercial significance of these negotiations is obvious."
This is likely to be viewed as one of the most substantive outcomes of the Apec Summit in Beijing. In the weeks preceding it, there had been much speculation as to how much trade liberalisation could be achieved, with many plurilateral discussions reaching stalemate.
Dieter Ernst, senior fellow at the East West Centre, a research organisation based in Hawaii, had warned of the importance of making a breakthrough, writing: "The stalemate in ITA-2 negotiations signals a possible roadblock to progressive trade liberalisation in high-tech industries.
"Mega-developing countries like India and China have enough resources to cope with a possible stalemate of ITA-2 negotiations ... but for the majority of developing countries, such stalled and incomplete trade liberalisation could have quite serious consequences, depriving them of speedy access to critical productivity-enhancing information technologies."
The news from Beijing, then, will be welcomed by those keen to see a more liberal trading environment.
Highlights of the understanding to develop the Information Technology Agreement (ITA):
Next generation semiconductors – Tariffs up to 25% reduced to zero.
Magnetic Resonance Imaging (MRI) machines -- Tariffs up to 8% reduced to zero.
Computed Tomography (CT) scanners – Tariffs up to 8% reduced to zero.
Global Positioning System (GPS) devices - Tariffs up to 8% reduced to zero.
Printed matter/cards to download software and games – Tariffs up to 10% reduced to zero.
Printer ink cartridges – Tariffs up to 25% reduced to zero.
Static converters and inductors – Tariffs up to 10% reduced to zero.
Loudspeakers – Tariffs up to 30% reduced to zero.
Software media, such as solid state drives - Tariffs up to 30% reduced to zero.
Video game consoles – Tariffs up to 30% reduced to zero.
An expanded ITA would also eliminate import duties on a range of additional technology products including high-tech medical devices, video cameras, and an array of high-tech ICT testing instruments.
Source: USTR website
© Copyright IBTimes 2023. All rights reserved.