A company which specialise in 3D and 4D scans of your unborn baby are now looking to use that data to create "an adorable baby figurine resembling your baby's facial features and body position."
The company - 3D Babies - launced a crowd-funding campaign last year looking to raise $15,000 (£9,120; €11,000) on the Indiegogo website, to try and get the project up and running,
The company said it will use the 3D/4D ultrasound images, or newborn baby pictures, to create "a unique artistic representation of your baby using the latest computer graphics and 3D printing technology."
However the company raised just $1,225 of its target and it is unclear when the project will now be launched.
Any size or colour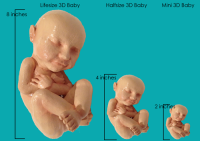 3D Babies was planning on offering the figurines in three sizes - 8in, 4in and 2in - as well as with three different skin colours - light, medium and dark.
The benefits of doing this? According to 3D Babies "this is a great way to share the excitement of your new baby with family and friends. Your 3D Baby will be a treasured family remembrance of your pregnancy and new baby."
The 3D printing craze took off in 2013 and is set to continue in 2014, with the 3D printer zone at CES 2014 having to be expanded three times in order to accommodate the companies wanting to show off their wares.
Hwoever the crase has already caused some controversy last year when a number of people used 3D printers to design, print and fire their own guns.