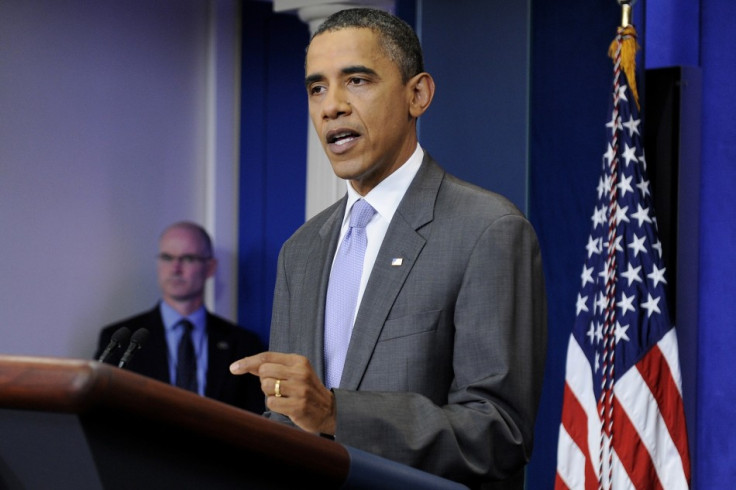 Barack Obama has announced he has reached an agreement with both Republican and Democratic congressional leaders.
The deal was broken after both parties were locked in a standoff, amid fears that without an agreement reached by the Aug. 2 deadline, the U.S. would be forced into default.
Addressing the nation from the White House, the President remained cautious as he warned, "We are not done yet."
In his address, Obama stressed the need for unity from and urged both members of Congress to support the new plan, which he said will cut nearly $1 trillion in federal spending over the next decade.
"This compromise does make a serious down payment on the deficit reduction we need and gives each party a strong incentive to get a balanced plan done before the end of the year," Obama said Sunday night.
"Most importantly, it will allow us to avoid default and end the crisis Washington imposed on the rest of America."
While the Democrats-led Senate is expected to pass the move, it could still face opposition from leaders in the House of Representatives. Noting that the new deal is all about compromise for both camps, Senator Reid, welcomed the plan.
"I know this agreement won't make every Republican happy. It certainly won't make every Democrat happy, either," said Reid. "Both parties gave more ground than they wanted to. And neither side got as much as it had hoped. But that is the essence of compromise. And the American people demanded compromise this week."
Proving that it will be harder to convince House Representative leaders, Speaker John Boehner was less enthusiastic.
"My hope would be to file it and have it on the floor as soon as possible. I realize that's not ideal, and I apologize for it. But after I go through it, you'll realize it's pretty much the framework we've been operating in." he told House Republicans on Sunday night.
Following Sunday's meeting, congressional leaders confirmed they would present the deal to their party members today and were confident that both houses would approve the compromise before Tuesday night, when the nation's $14.3 trillion debt limit must be increased.
Analysts however, remained cautious as the deal still does not make unanimity and certain Democrats insist they are concerned about the extent of the proposed spending cuts in the deal.
The new deal's key point include $900 billion worth of spending cuts, the creation of a new bipartisan committee and three-phase debt increase.
Here are details of the plan:
Spending cuts of $900 billion over 10 years on areas such as primarily education, housing and transportation programs while the Defense sector would see a $350 billion cut.
No immediate tax increase.
The creation of a new 12-member, bipartisan legislative committee in charge of advising on spending cuts, worth $1.5 trillion. Should the committee fail to come up with the appropriate cuts, automatic spending cuts will be implemented on Jan. 1, 2013. Half of those cuts will affect the Defense sectors, and half will come from non-Defense areas.
The plan, however, states that Social Security, Medicaid, unemployment insurance and civilian and military retirement would not be exempt from cuts.
The debt limit would be increased, according to a three-phase plan.
A $400 billion increase would go into effect immediately, followed by a $500 billion increase that would take effect this fall. Finally, that last increase would be $1.5 trillion and is expected to be enough for the government to get through 2012.