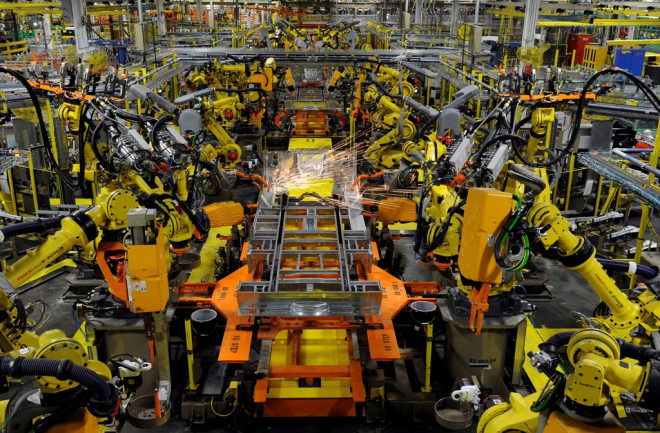 US manufacturing activity accelerated in May and construction spending rose for a third month in a row in April, hinting that the growth momentum in the world's largest economy is gathering pace in the second quarter.
The benchmark Institute for Supply Management (ISM) US factory survey revealed that US factory activity increased to 55.4 in May from 54.9 in April.
The ISM had earlier erroneously reported that the index fell to 53.2 in May. A reading above the 50 threshold points to expanding activity.
New orders, production and customer inventories logged gains. Factory job growth, however, slowed.
The ISM survey also signalled a pick-up in inflation pressures, with manufacturers reporting an increase in raw material prices.
In a separate report, the US Commerce Department said construction spending increased 0.2% in April to an annual rate of $953.5bn (£569.4bn, €700.9bn), the highest level since March 2009.
While the reading missed expectations, the spending figure for March was revised to show a 0.6% rise instead of the previously reported 0.2% increase.
Construction spending in April was driven by public outlays which increased by 0.8%.
Earlier, financial data provider Markit said its final US manufacturing Purchasing Managers Index rose to 56.4 in May from 55.4 in April.
Analysts' Take
TD Economics said in a note to clients: "...Instead of disappointing, the ISM report tells a positive story of ongoing improvement in economic growth. This further supports the case for a strong bounce back in activity in the second quarter, after the contraction in the first quarter.
"We expect economic growth to rise to an above potential rate of around 3.0% over the second half of this year. Growth will rely heavily on domestic demand, especially residential and non-residential investment. In this regard, the acceleration in manufacturing activity in May is an encouraging sign."
"The downward movement in long-term interest rates should prove beneficial to domestic demand growth over the remainder of this year. The downside risk to the outlook is that access to credit, especially for first time home buyers, remains an impediment to this recovery," TD added.
Capital Economics said in a note: "...At the corrected 55.4 May level, the headline index is consistent with GDP growth of just a little below 3% at an annualised pace."
Barclays Capital said in a note: "US construction spending rose modestly in April, by 0.2% m/m, softer than our forecast (0.5%) and consensus (0.6%) expectations...
"Altogether, beneath the headline weakness, gains in single-family and multi-family spending were in line with our forecast, leaving our GDP tracking estimates unchanged. After the April construction spending report, we are tracking -1.0% real GDP growth for Q1 and 2.8% for Q2."
Dismal Q1
US GDP growth slowed to 0.1% in the first quarter of 2014, a 2.5% quarterly dip.
Analysts had anticipated lower growth after the economy suffered the third coldest winter in US history. But most predicted returns of around 1.1% and few expected such a huge drop.
It was the lowest quarterly growth the US economy has returned since the end of 2012, when it also reported growth of 0.1%.