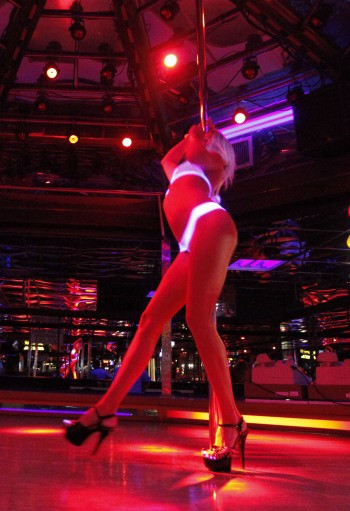 Two agents with the US Drug Enforcement Administration (DEA) have been charged with federal crimes for secretly running a sleazy New Jersey strip joint.
High-ranking agent David Polos and telecommunications specialist David Glover were part owners of Twins Plus Go-Go Lounge in South Hackensack where strippers also provided sex captured on security cameras, according to the federal indictment against the men. Many of the women were from Brazil or Russia and in the US illegally, according to the complaint.
"There appear to be multiple instances of sexual contact between dancers and patrons, with money exchanged afterward" on at least one of the videos, states the criminal complaint.
Both men worked as DEA agents out of the agency's Manhattan office. Polos, 51, retired last month from his job as head of the DEA's organised crime task force in New York. The men were released without bail after they surrendered to face charges that they falsified national security forms and lied during background-check interviews by failing to disclose outside employment that could put them "in proximity to crime" and at risk for getting blackmailed, reports NBC. If convicted, they could each face up to five years in prison.
The defendants "had important and sensitive law enforcement jobs with the DEA", US Attorney Preet Bharara said in a statement. "As alleged in the complaint, they also had other secret jobs, which they concealed from DEA in order to maintain their national security clearance, betraying the oaths they had taken and creating needless risk for the agency they worked for."
Had they properly disclosed their ownership interests and involvement in the club, according to the complaint, their security clearances would "most likely have been denied," and they could not have continued in their DEA positions.
Abuse of position
The complaint said that the men often moonlighted on site as managers, and Polos used his position to intimidate people.
In some cases, court papers allege, he wore his badge at the club and once pulled up his pants leg to show off a gun during a dispute. "This is the boss. I am the boss," he said, according to the complaint.
The charges come after a scathing government watchdog report detailed allegations that DEA agents attended sex parties with prostitutes on government-leased property while stationed overseas.