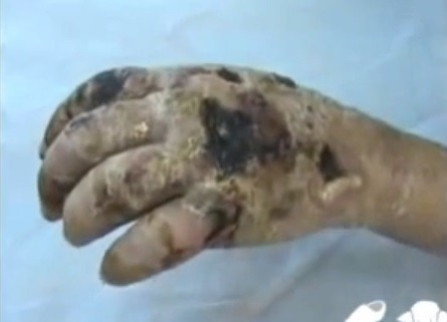 The US Drug Enforcement Agency (DEA) has been unable to find any traces of the flesh-eating drug krokodil because it breaks down in the body quickly so rarely shows up in tests.
According to reports, a number of suspected krokodil users have surfaced in Illinois and Phoenix, with other unconfirmed cases in Oklahoma, Nevada and New York.
The drug, desomorphine, became popular in Russia a decade ago. It has a similar but shorter effect to heroin but is much cheaper as it is made from household items such as lighter fluid, codeine and petrol.
A report in the Chicago Tribune suggested that the extent of krokodil use in the US may not be established for months or years - if it was present at all.
Jack Riley, a spokesman for the DEA, said finding krokodil had become a top priority but the samples they had uncovered turned out to be heroin.
No agency has found conclusive evidence that krokodil has entered the US drugs community. However, according to the Tribune, the chemical compound that creates krokodil's high can break down quickly in the body and may not show up in blood and urine samples.
Michael Wahl, medical director for the Illinois Poison Control Centre, said: "You might see someone in the [emergency room] and they're showing symptoms and they say, 'I took bath salts, I bought them at this gas station.
"For krokodil, people think they are getting heroin, and they say, 'I was using heroin and I got these sores'."
Jane Maxwell, a drug expert at the University of Texas, also said the symptoms common to krokodil users, where they develop gangrenous sores and their flesh rots away, can result from contaminated heroin.
"In California once, there were these outbreaks of sores," she said. "It was because the heroin was coming across the border stuck up the rear ends of cows."
While the DEA said that it could not establish that krokodil had entered the US, spokesman Rusty Payne told IBTimes UK it could show up soon: "Any emerging designer drug is concerning so we wouldn't be surprised if we see more of it. We've had a huge influx of designer drugs.
"When you're injecting things that contain gasoline and paint thinner, you get what you deserve.
"Desomorphine is a controlled substance, it's dangerous and addictive in itself but when you start dealing with other adulterants and additives you get more problems."
READ:
Krokodil in the UK Special Report: No Need to Panic - for Now

Krokodil Invades US: DEA Says Users of Flesh Eating Drug 'Get What They Deserve' [GRAPHIC PHOTOS]
Krokodil Invades US: Flesh Eating Drug Sold as Heroin [GRAPHIC PHOTOS]
Krokodil Loose in UK? Warning Signs Flesh-Eating Drug That Turns Skin to Scales Has Entered Britain [GRAPHIC PHOTOS]
Krokodil: Flesh-Eating Drug That Turns Skin to Scales Hits Streets in US [GRAPHIC IMAGES]
Krokodil: Chicago Users Describe Rotting From Inside Out by the Flesh-Eating Drug [GRAPHIC PHOTOS]