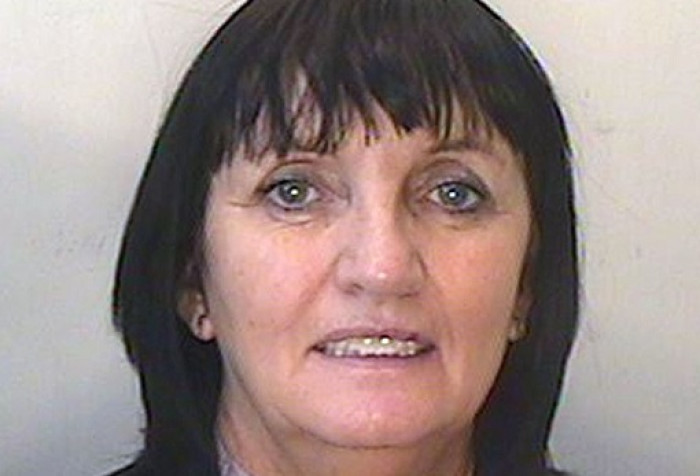 A woman who was found dead alongside her partner when burglars broke into their house in County Limerick has been identified as a fraudster wanted by the FBI.
The decomposed bodies of Julia Holmes, 63, and her 56-year-old partner Thomas Ruttle were found by burglars at an address in Askeaton in the early hours of 18 May.
The pair are believed to have died after ingesting poison as part of a suicide pact, although a post-mortem to determine a cause of death could take weeks. Up to 20 handwritten letters were also found around the farmhouse.
Police said the bodies may have lay undetected in the house since March but added that the female has now been formally identified as Holmes, a fraudster who was wanted by the FBI, The PSNI and the Gardaí who used up to 30 aliases.
Holmes, from Ballynahinch, County Down, was deported from the US in 2006 after she was convicted in a $500,000 (£318,000, €448,000) property scam in Texas.
Holmes was also on the run from the PSNI after failing to stand trial in 2011 on £18,000 fraud charges.
Further fraud details have now emerged since her body was discovered, including allegations she attempted to trick builders into believing she was dying from cancer when they sought €70,000 for renovating her home and promoting bogus charities and fundraising events.
Elsewhere, the step-daughter of Holmes, Kimberley Parrish-Saunders, described the 63-year-old as a "violent, manipulative liar".
Parrish-Saunders, who met Holmes when she entered a bigamist marriage with her father in 1983, described her as her family's "worst nightmare".
She told the Irish Mirror: "My lovely mom and dad were going through a hard time and were in the middle of a divorce when she came on the scene.
"We didn't know she'd been married and not divorced and she got her claws into my dad really hard.
"I describe her, even today, as my step-mom but actually their wedding wasn't legal so technically she's no relation of mine, thank goodness."
Parrish-Saunders also claims Holmes used to hit her and her sister when they were younger and claimed she was pregnant through her father despite him having a vasectomy.
She added: "Julia claimed later she had a miscarriage and then another time she claimed she was pregnant again, and again she said she lost the baby. But there's no way she could have got pregnant with my father because of his vasectomy.
"But in those days no one felt the need to talk about it, so when she was spouting these lies she was unaware dad had had the op."