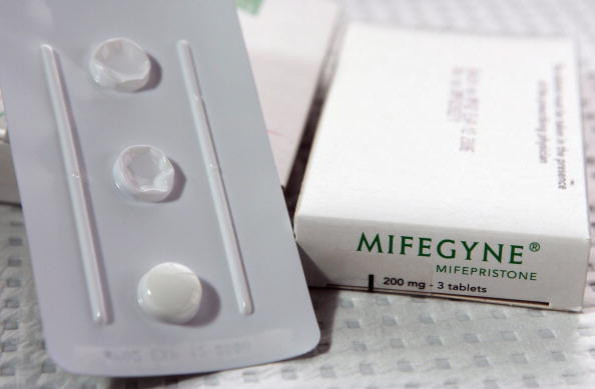 The Food and Drug Administration (FDA) expanded its approval of the abortion pill on 30 March, which could make medication abortions more easily available in at least three states that hope to limit its use. The agency updated the label requirements for mifepristone to allow patients to take some doses at home.
According to POLITICO, the new adjustments will mean that there will be fewer doctor visits and lower dosages, making the whole procedure cheaper. The updated protocol also extends the time a pregnant woman can take the drug from 49 days to 70 days. The dosage was reduced from 600 milligrams to 200 milligrams, The New York Times reported.
"After reviewing the supplemental application, the agency determined that Mifeprex is safe and effective when used to terminate a pregnancy in accordance with revised labeling," the FDA said in a statement, referring to the brand name of the abortion drug.
While healthcare providers throughout the US have used the new process for years, at least three states — North Dakota, Ohio and Texas — limited healthcare providers to use only the FDA-approved protocol. Medication abortions were therefore more expensive in the three states and providers usually recommended women undergo more invasive surgical abortions.
Three other states — Arizona, Arkansas and Oklahoma — also passed similar laws prior to the announcement by the FDA. Those laws, however, have been blocked by the courts.
Several groups, including the American College of Obstetricians and Gynecologists, National Abortion Federation, Planned Parenthood, the Center for Reproductive Rights and other abortion rights groups, supported the FDA's changes, POLITICO reported.
"This is a major shift both in closing the gap between science and legal regulation and in enabling women to exercise their constitutional right to terminate a pregnancy," said Columbia University law professor Suzanne B Goldberg, who specialises in sexuality and gender law.
The protocol put in place on 30 March had been used at Planned Parenthood, Reagan McDonald-Mosley, chief medical officer at Planned Parenthood Federation of America, said. "But given the restrictions on medication abortion enacted at the state level in recent years, updating the label to reflect best medical practice represents a significant step forward for science, for women, and for healthcare providers who want to give our patients the highest quality care."
However, anti-abortion groups claim that the FDA has downplayed the health risks associated with medication abortions. "It is obvious that the FDA's new protocol serves only the interests of the abortion industry by expanding their base of potential customers, increasing their profit margin, and reducing the level of staff and amount of resources they have to devote to the patient," National Right to Life Director of Education and Research Randall K O'Bannon said. "It is clear whose interests it is the FDA is serving. It isn't the women, and it isn't the babies."