The US-India diplomatic row over the arrest of Devyani Khobragade has put US Attorney Preet Bharara in the limelight, as reports speculate the prosecutor is spearheading the case to propel his political ambitions.
India-born Bharara, who was handpicked by President Barack Obama for the attorney role in 2009, has previously been involved in several high-profile prosecutions, including the conviction of former Goldman Sachs director Rajat Gupta on insider trading charges.
The recent arrest involving Khobragade, a deputy consul general in New York, has triggered a diplomatic storm between Washington and New Delhi. She was apprehended on charges of committing fraud in the US visa application for her maid Sangeeta Richard.
Khobragade, 39, was handcuffed by New York police and was reportedly subjected to a strip search, angering India. It is believed that she was kept in the same cell as criminals and drug addicts.
Bharara is now facing pressure for the way in which he has apparently been targeting high-profile Indians in his legal endeavours.
It has also been suggested that Bharara, like his predecessor Rudy Giuliani who went on to become Mayor of New York City, could run for a higher political office after his term ends next year. Bharara's office has, nevertheless, denied any such motive.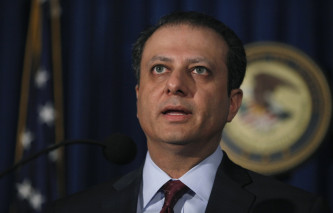 The Indian-American's 727-word statement on Khobragade has almost taken US officials by surprise, as well as the authorities at the Justice Department.
"We didn't know it was coming," an Obama administration official said of Bharara's move to The Washington Post.
The Obama administration, however, has officially distanced itself from Bharara's statement, in which he has explained the procedures - some of them disputed – carried out during the Khobragade episode at length.
In Bharara's brief statement, a rather unusual phenomenon for the attorney's office which is otherwise accustomed to releasing announcements of successes in trials, he said:
"Khobragade was accorded courtesies well beyond what other defendants, most of whom are American citizens, are accorded.
"She was not, as has been incorrectly reported, arrested in front of her children. The agents arrested her in the most discreet way possible, and unlike most defendants, she was not then handcuffed or restrained."
The details of the account are also being disputed by Indian officials as the US Marshals Service had previously admitted Khobragade was subjected to the "same search procedures as other USMS arrestees".
Contradicting the US attorney's account, State Department spokesperson said: "Certain courtesies were not extended in this case. I think it's fair to say that that's why we're looking at what happened."
In a direct response to Bharara's statement, the Indian Foreign Ministry said: "When the legal process in another friendly and democratic country is interfered with in this manner, it not only amounts to interference but also raises the serious concern of calling into question the very legal system of that country.
"This statement is one more attempt at a post-facto rationalisation for an action that should never have taken place in the first instance."
People in the American diplomatic community are also quietly expressing their displeasure in the manner at which the Indian diplomat was detained.
"If they wanted to throw the book at her [Khobragade] Washington could have protested to the Indian Embassy and "made her leave the country. That's the way these things are done," a senior US official told the Post.