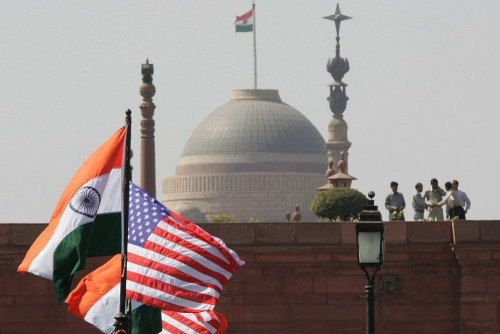 New Delhi has responded furiously to the arrest of one of its consuls in New York, telling American diplomats across the country to turn in their ID cards and stripping them off other privileges.
Responding to the "humiliating" arrest of high-ranking diplomat Devyani Khobragade in the US, India has swiftly imposed a raft of measures against American attachés and diplomatic missions.
Apart from asking the US diplomats and their family members to surrender their identity cards, which bestow on them special privileges inside the country, New Delhi has also withdrawn their airport passes.
Barricades erected by Indian authorities outside various American diplomatic posts are also being removed.
A diplomatic storm was brewing between Washington and New Delhi following the arrest of Khobragade, deputy consul general for political, economic, commercial and women's affairs in New York, on charges of committing fraud in the US visa application for her maid Sangeeta Richard.
Khobragade, 39, was handcuffed by New York police and was reportedly subjected to strip search, angering India. It is believed that she was kept in the same cell alongside criminals and drug addicts.
High-profile politicians from a cross-section of parties have reacted strongly to the manner in which the diplomat was treated. Sonia Gandhi, the chairperson of the ruling coalition UPA, Congress party scion Rahul Gandhi and the opposition's Narendra Modi have all cancelled their scheduled meetings with US delegations.
National Security Adviser Shivshankar Menon said the US action was "despicable and barbaric".
"It is completely unacceptable. We have put in motion what we believe will be an effective way to address this issue and protect her dignity," said India's Foreign Minister Salman Kurshid.
New Delhi has also ordered to collect various details, including the social security payments, of its nationals working in the US in order to press for more action.
However, Washington has defended its action and the way Khobragade was treated.
"Under the Vienna Convention on Consular Relations, the Indian deputy consul general enjoys immunity from the jurisdiction of US courts only with respect to acts performed in the exercise of consular functions. This isn't just in the US; it's all around the world. So in this case, she fell under that specific kind of immunity, and would be liable to arrest pending trial pursuant a felony arrest warrant," said US State Department spokesperson Marie Harf.