Despite President Donald Trump's triumphant declarations about getting rid of the North American Free Trade Agreement (NAFTA), analysts think the U.S.-Mexico trade agreement reached earlier this week is "far from a done deal."
Gary Hufbauer, senior fellow at Peterson Institute for International Economics, gave three main reasons for why he thinks the deal would not go through.
"It's Trump's deal, it is unclear whether Canada can be bullied into the party, and the deal did too much for IP (intellectual property) protection and not enough for labour and environment protection."
The deal is expected to be signed at the end of November after a 90-day layover period; a letter to Congress could be submitted Friday.
Yung-Yu Ma, chief investment strategist at BMO Wealth Management, said the deal may be overhyped but added that "progress is progress and the markets reacted positively as expected."
U.S. stock indices closed at new record highs Monday. The S&P 500 closed at 2,896.74, Dow at 26,049.64 and Nasdaq at 8,017.90.
Hufbauer said congressmen and senators will find much they dislike in the U.S.-Mexico agreement. "If Democrats control the House in January 2019, they will have every incentive to reject Trump's handiwork."
Scotiabank said in a note a great deal of work remained to be done to conclude a NAFTA 2.0 which would include Canada but that the deal provides the White House with a strong talking point ahead of the midterm elections. "President Trump does not need a signed and sealed new NAFTA to campaign on is 'success' in renegotiating the trade agreement."
"Mexico has sent mixed messages on whether it would sign a bilateral deal that excludes Canada. For now, the Mexican administration appears satisfied with a bilateral understanding that provides assurances of stable trade with the United States, while stating that their preference remains for a trilateral deal."
Mark Zandi, chief economist at Moody's Analytics, expected the deal to have little impact on the U.S. economy. "It won't materially change the U.S.-Mexican trade balance or increase trade between the two countries. The U.S. GDP and job impacts will be on the margin. And this assumes that the U.S. is able to strike a similar deal with Canada. If not, it could disrupt manufacturers' supply chains, particularly for automakers whose supply chains extend across North America."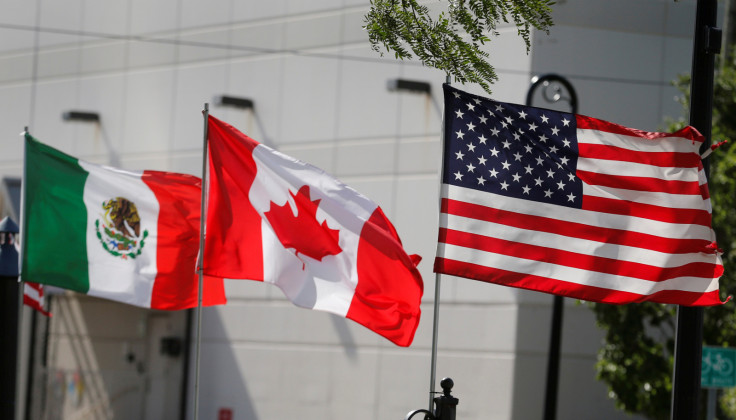 'OTTAWA TO GET MORE LEVERAGE'
Canada's participation in the deal remains a challenge. "President Trump continued with an aggressive stance by threatening to impose 25 percent tariffs on cars from Canada," Yung said. "The U.S. and Canada still have difficult negotiations to resolve, and Canada, while undoubtedly feeling some additional pressure after the U.S.–Mexico announcement, does not want to be coerced into playing a weak hand in the negotiations."
However, Scotiabank noted that the new pressure on Canada may give Ottawa more leverage as it rejoins the talks.
"The U.S. and Mexico's urgency on finalizing a deal, combined with the apparent constraints under trade-promotion authority that may prevent conclusion of a quick U.S.-Mexico bilateral, could mean Canada now faces less pressure with respect to the U.S.' outstanding demands on agricultural supply management and government procurement."
Scotiabank analysts think it should be relatively easy for Canada to join the U.S.-Mexico deal for automobiles but that the country may find it harder to agree to other key U.S. demands. The discussions could extend beyond the end of this week and miss the U.S. Congress' procedural deadline for signature of a revised NAFTA deal under the current Mexican administration, they said.