US Secretary of State John Kerry has told Indian Prime Minister Narendra Modi that his government's refusal to sign a landmark global trade pact has sent a wrong signal.
Kerry, who was in India to prepare the ground for Modi's Washington visit, urged New Delhi to resolve the dispute at the earliest possible.
Some World Trade Organisation (WTO) members, frustrated by India's veto, have already discussed a plan to exclude the subcontinent from the so-called Trade Facilitation Agreement (TFA) and push ahead no matter what.
But New Zealand's Minister of Overseas Trade, Tim Groser, told Reuters that any talk of excluding India was "naive" and counterproductive.
The failure of the WTO Bali accord must signal a move away from multilateral agreements, Peter Gallagher, an expert on free trade and the WTO at the University of Adelaide, told Reuters.
"I think it's certainly premature to speak about the death of the WTO. I hope we've got to the point where a little bit more realism is going to enter into the negotiating procedures," Gallagher said.
"It's 153 countries. We can't all move at the same speed on the same things, and it's time to let those that want to do it, do it."
The WTO Bali pact to ease global customs rules collapsed over India's insistence that a deal be accompanied by a parallel agreement giving the subcontinent more freedom to subsidise and stockpile food grains for its impoverished population than is permitted by WTO rules.
The Bali accord, tipped to inject $960bn (£570bn, €716bn) into the global economy, promises to cut red tape at customs the world over. The deal is expected to create 21 million jobs globally.
Food Storage
India has an ambitious plan to subsidise food for two-thirds of its population and Indian economists have said that New Delhi's stand on agricultural stockpiling is justified.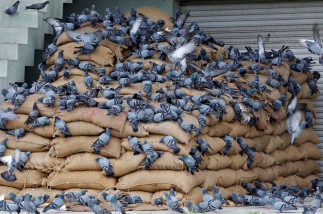 However, the nation has surprisingly tolerated deplorable food storage facilities and infrastructure for decades, which Modi's government hopes to set right.
The 2014-15 federal budget has allocated nearly $820m for boosting warehouse capacity countrywide.
The move followed a survey, by the Ludhiana, Punjab-based Central Institute of Post-Harvest Engineering and Technology (Ciphet), which showed that about 18% of the nation's total produce is wasted every year.