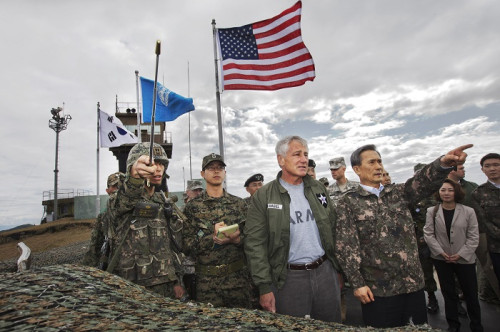 The United States and South Korea have agreed to share the cost of the American military presence in the country.
The countries have agreed that South Korea will contribute 920 billion won (£526.1 million) towards the cost of the 28,500 US troops in South Korea – up 5.8% from the figure agreed in 2012.
The Special Measure Agreement (SMA) sets out the terms for the cost-sharing support, also known as a burden sharing, over the next five years.
The allies launched talks early last year to renew the SMA, which was first agreed in 1991 and rewritten in 2008, and which expired at the end of last year.
The deal, which still needs to be ratified by the South Korean parliament, comes after Washington decided to send more soldiers and tanks to South Korea next month. It is seen as part of a US effort to rebalance its military presence in Asia after more than a decade of war in Afghanistan and Iraq. Experts predict the increase in South Korea's contribution could be contentious when the SMA is debated.
A statement from South Korea's foreign ministry said: "The US side had demanded a large-scale hike, considering US Forces Korea's strengthened readiness due to the serious security situation in the Korean peninsula and its budget situation, but the government put the utmost efforts and drew agreement to an extent to minimise our burden."
The latest round of negotiations, the tenth, began on Thursday. One of the sticking points had been how much South Korea should contribute. The US had reportedly sought at least 1 trillion won (£571.8 million) from South Korea, up from 869.5 billion won in 2012. Seoul had reportedly proposed around 900 billion won. In this week's negotiations, both sides compromised roughly halfway, according to government sources speaking to The Korea Times.
Earlier this week US Secretary of State John Kerry said the US Government "remains fully committed to the defense of the Republic of Korea, including through extended deterrents and putting the full range of US military capabilities in place."
He added: "We will continue to modernise our capabilities so that we are prepared to face any threat."
The funds from the SMA are expended in South Korea, funding salaries for civilian employees, local logistics procurement, and construction by Korean companies.