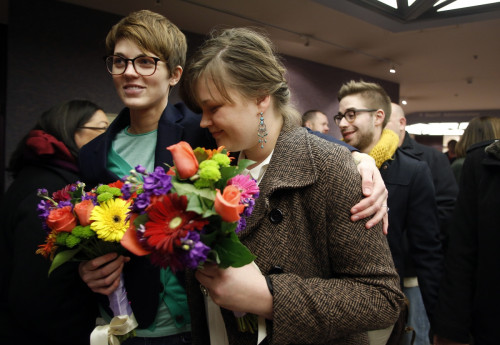 The US Supreme Court has blocked same-sex marriage in the state of Utah, ruling in favour of a request by the heavily-Mormon state.
Supreme judges in Washington decided no marriage licences for LGBT couples should be issued in Utah until a federal appeals court fully considers the issue.
"Despite today's decision, we are hopeful that the lower court's well-reasoned decision will be upheld in the end and that courts across the country will continue to recognize that all couples should have the freedom to marry," said Joshua Block, attorney with the American Civil Liberties Union.
The decision follows an emergency appeal lodged by state officials to halt the effects of a ruling by District Court Judge Robert Shelby.
Shelby struck down Utah's 2004 ban on same-sex marriage on 20 December, saying it violated gay and lesbian couples' constitutional rights.
"[The law] conflicts with the United States Constitution's guarantees of equal protection and due process under the law," the judge wrote.
The ruling eventually opened the doors for Utah gay couples to marry, something more than 900 couples have done in the past two weeks.
Utah state officials appealed the ruling and asked the Supreme Court to stop the flow of marriages pending a final decision by the 10th US Circuit Court of Appeals in Denver.
The state claims every same-sex marriage celebrated is an "affront" to democratic principles.
"Each one is an affront to the interests of the states and its citizens in being able to define marriage through ordinary democratic channels," the state says.