Vaginal ring to stop HIV transmissions to be given to teenage girls
There are 7,000 new infections globally each week among girls aged 15-24, the majority in Sub-Saharan Africa.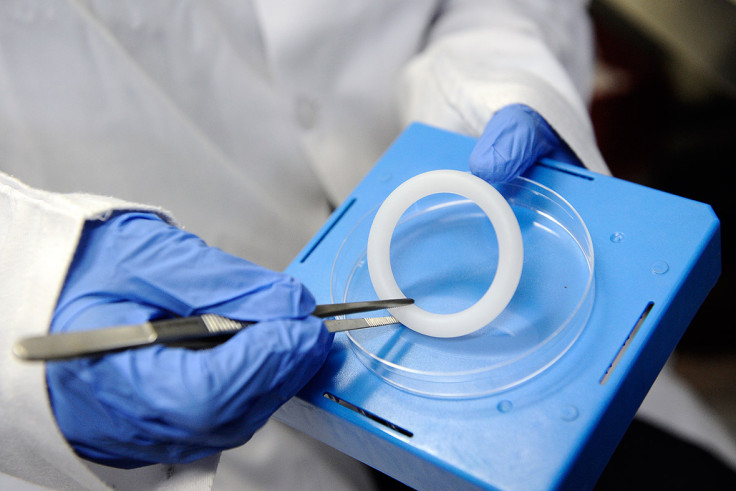 A vaginal ring used to prevent HIV in women has been deemed safe and acceptable for adolescent girls. This is the first time that the ring, which contains an antiretroviral (ARV) drug called dapivirine, has been tested in girls under age 18.
Antiretroviral therapy and prevention strategies have stopped thousands of new HIV infections since the start of the century. Being diagnosed as HIV-positive is no longer the death sentence it once was.
In recent years, a preventative treatment known Truvada for PrEP (pre-exposure prophylaxis) has also been prescribed to people at high risk of developing HIV in some countries.
Studies have shown that it provides a 92%-99% reduction in HIV risk for the individuals who take the pills every day as directed.
But despites these advances, huge challenges remain globally. Over one million women are still infected with the virus each year, the majority in Sub-Saharan Africa. Recent estimates have also suggested that teenage girls are particularly vulnerable.
Vaginal ring for young women
In a study now presented at the International Aids Society Conference in Paris, scientists have shown that the use of a vaginal ring to prevent HIV infections was safe to use for young women, providing a potential new tool for them to avoid getting infected.
"There are 7,000 new infections globally each week among girls aged 15 to 24 years old, the majority of them in Sub-Saharan Africa. Girls in this age group are twice as likely as their male peers to get infected so that's why it's important to test preventive tools like the vaginal ring that could help reduce the risk for adolescent girls," Annalene Nel, chief medical officer at the International Partnership for Microbicides, told IBTimes UK.
In two previous Phase III trials involving 4,500 women from four African countries, researchers had already shown that the ring was safe and protected women aged 18 to 45 years old against HIV. It appeared to reduce women's risk of acquiring HIV by about a third.
This new study is the first time that the ring is tested in a younger population, disproportionately affected by HIV in Africa.
"If the ring is approved for women older than age 18, it's imperative that we have the data in hand to show that the ring is safe to use in younger women as well," explained principal investigator Sharon Hillier, of the University of Pittsburgh School of Medicine. "HIV doesn't distinguish between a 16-year-old and an 18-year-old. Access to safe and effective HIV prevention shouldn't either. Young women of all ages deserve to be protected."
This study with adolescent girls, known as the as MTN-023/IPM 030 trial, was conducted in the US. 96 girls aged 15 to 17 years old were enrolled at six US sites, with 73 of them randomly assigned to use vaginal dapivirine ring and the rest of them a placebo ring that looked and felt the same but contained no active drug. The girls were asked to wear the ring for a month at a time, for a total of six months.
The study was not designed to test whether the ring was effective as the girls were not at high-risk of infection, but it was intended to test safety before the device can be rolled out more widely in a trial in Africa.
Here, the researchers observed that there was no differences in safety outcomes between the dapivirine ring and the placebo ring. Furthermore, adherence to ring use was high, as 42% of participants reported that they had never removed the ring except to replace it monthly.
In the group wearing the dapivirine ring, 87% of plasma samples had detectable levels of drug suggestive of the ring being used the previous day and 95% of the rings returned after use had drug levels that suggested consistent use during the previous month.
95% of the participants said that the ring was easy to use and although some were concerned that their partner would feel the ring during sex they were overall happy with it.
Doing more prevention
These findings indicate that there is a place for the ring as a preventive tool against HIV alongside Truvada for PrEP. It gives women at high risk of infections more options to protect themselves.
"We welcome these positive findings that demonstrate the safety and acceptability of the dapivirine vaginal ring in young women. Novel HIV prevention strategies are needed to impact on HIV transmissions", said Michael Brady, Medical Director of HIV charity Terrence Higgins Trust, who was not involved in the study.
"Pre-exposure prophylaxis (PrEP) empowers HIV negative people to protect themselves from HIV. This can be of particular importance for women in settings where perfect condom use may not be an option. We already have excellent evidence for the efficacy of Truvada tablets as PrEP and, whilst more research is needed, the dapivirine vaginal ring has the possibility to improve choice and access to PrEP by increasing our range of options for women."
Next, the researchers will launch another study in four African countries - known as the REACH study. They will gather information on the safety of both the monthly ring and Truvada as daily PrEP, and explore whether biological or physiological factors affect product efficacy or HIV susceptibility in adolescent girls and young women. They will also investigate girls' preferences for either or both approaches, allowing them to try both throughout the 18 months of the trial.
---
The International Partnership for Microbicides is a non-profit organisation whose aim is to prevent HIV transmission by accelerating the development and availability of safe and effective microbicides for use by women in developing countries. It developed the dapivirine ring.
© Copyright IBTimes 2023. All rights reserved.