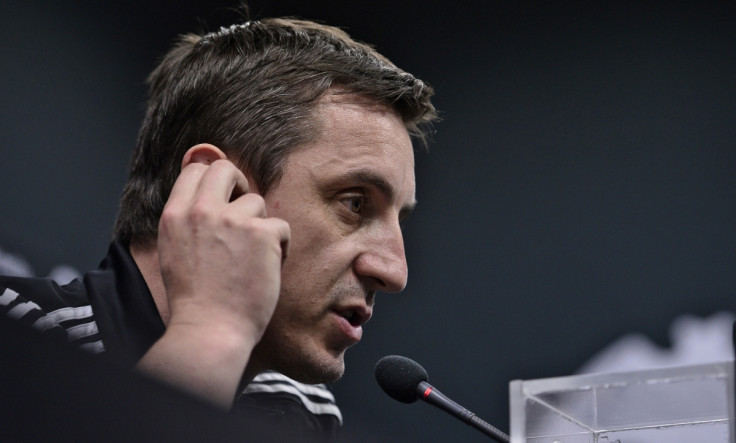 Valencia coach Gary Neville thinks a lack of English players in the Premier League is hurting the national side.The 40-year-old says it is harder for England to achieve success at international level because of the disproportionately high number of foreign players plying their trade in the top flight.
Despite this, the former Manchester United full-back thinks the current generation of players have the potential to end England's trophy drought, which stretches back to the World Cup triumph in 1966.
"There will come a point where we get that generation to succeed. Of course we need to improve and have more than the 32% of English players we have in the Premier League now," the Valencia boss explained to GQ magazine.
"There are four serial winners – Brazil, Argentina, Italy and Germany. Then others who win but dip after – Spain, France did it, England in the Sixties ... It will come again."
Neville – who also serves as Roy Hodgson's assistant at international level – said England have the talent to beat any of their rivals. He also insisted he has faith in the current crop of players, which includes the likes of Raheem Sterling, Dele Alli and Harry Kane.
"On our day we can beat anyone. Then the question is can we sustain it over a tournament? That remains to be seen," the under-pressure Valencia boss admitted. "Roy picks the players but I have strong belief in them. If we can keep this group together, this can become 'the' generation."
Neville was appointed as the coach of Valencia in December 2015, but has since struggled to improve the club's fortunes. The Spanish giants are yet to win a game in La Liga under his management.