Follow transfer deadline day here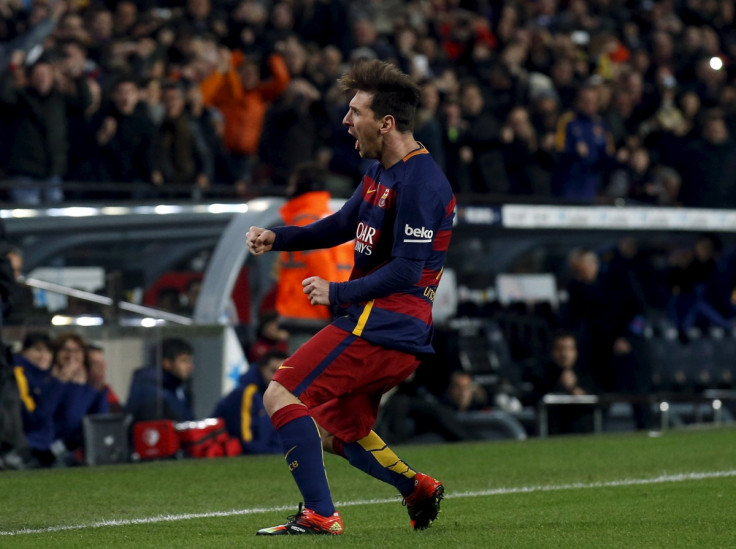 Lionel Messi has sparked fears over his participation in the Copa del Rey semi-final first leg against Valencia on 3 February after reportedly missing Barcelona's Monday training session. The current Ballon d'Or played the full 90 minutes in the Barcelona 2-1 win over Atletico Madrid but received a knock following a heavy high tackle from Filipe Luis, which saw the former Chelsea left-back dismissed.
La Liga's current leaders host Gary Neville's side on Wednesday for the Copa del Rey encounter before a league trip to Levante on Sunday. Luis Enrique's boys returned to training on Monday, with Mundo Deportivo reporting the absence of Messi.
The Spanish publication claims the Barcelona ace trained on his own in the gym following the knock he received against Atletico Madrid. However, Mundo Deportivo said his absence was just a "precaution" and that he should be available for the Copa del Rey game.
Messi, meanwhile, has spoken with the club's official website about his tough road from the Barcelona academy to becoming into a club legend after making the difficult decision to leave his homeland as a kid.
"It was hard for me because it was such a big change," he said. "I left a lot behind in Argentina and unlike other children living at the Masia, I hardly ever got to visit my family. I only saw them once or twice a year and that was very hard for me."
Having recently won his fifth Ballon d'Or, the 28-year-old said that he is still looking for more, but refused to name himself as the best player in the history of the sport.
"This club always aims to win and I want to end my career having won as many titles as possible," the Barcelona forward added. "Just to hear people saying and thinking that [I am one of the best] makes me very proud indeed. But I try not to think about it too much and just focus on enjoying everything that I have in this life."