Valencia: Gary Neville urges fans to get behind team for 'must-win' Espanyol clash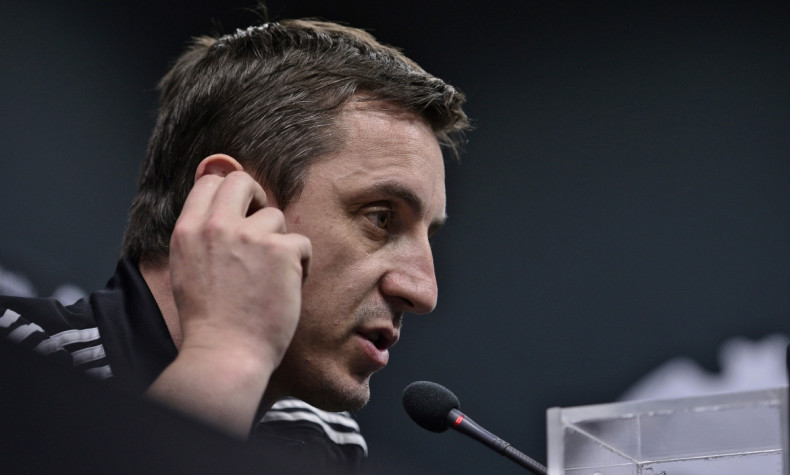 Valencia head coach Gary Neville has called on fans to get behind the team for the crucial La Liga clash against Espanyol at the weekend. The 40-year-old is under pressure from the club's fans and former players to deliver three points against 17th-placed Espanyol at the Mestalla and bring a 12-match winless league run to an end.
Valencia held Barcelona to a 1-1 draw at a half-empty Mestalla in the second leg of the Copa del Rey semi-final on 10 February after losing last week's first leg 7-0 at the Nou Camp.
"We and the team need the fans more than ever on Saturday," Neville was quoted as saying after the Barcelona match by Sky Sports. "I'm grateful to those who came and supported us tonight. I'm appreciative of that. I'm also aware of the fans that didn't come tonight. It's the right of every fan to say and do what he wants. But I think the stadium on Saturday will be full, and it will be an electric atmosphere.
"The focus after last week and Sunday has always been the match against Espanyol, and the squad selection tonight was about making sure we had as fresh a team as possible for Saturday – that's obvious. We're preparing already for Saturday. We know it's a big match."
Relegation threat
Valencia are only three points ahead of struggling Espanyol at 14th place in the La Liga table and could find themselves in a relegation scrap if they lose to the visitors on 13 February. Earlier, Neville said he was not even contemplating the prospect of relegation from the Primera Division and described the Espanyol fixture as a must-win game.
"I'm not even considering [relegation]. I know the situation we're in. I'm desperate to turn these results around. I will turn these results around," the former Manchester United captain was reported as saying by the Sun. "It has to turn around on Saturday. We have to win this match on Saturday, that's the pressure I'm putting on myself and the expectation of everybody — we have to win on Saturday.