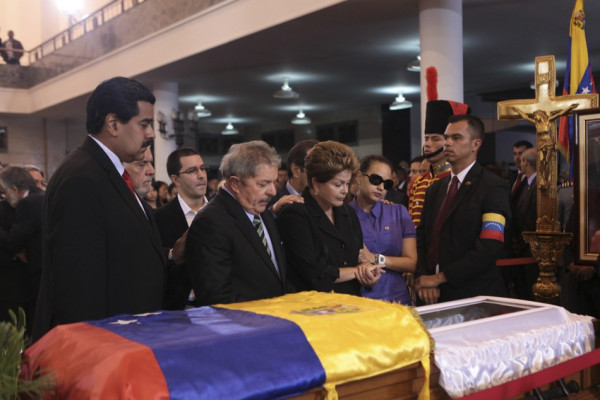 Scores of leaders from Latin American countries and other parts of the world are expected to attend late Venezuelan president Hugo Chavez's funeral.
Iranian President Mahmoud Ahmadinejad and Cuban President Raul Castro are among more than thirty heads of states who will be present for the ceremony which is to take place at 11:00 am local time (15:30 GMT).
Argentine President Cristina Fernandez, a close friend of Chavez, will not be attending the funeral as she has already visited Caracs to pay her last respects to the departed leader.
Delegates from the US are also to be present.
Chavez's body will then be taken to a military museum. Vice-president Nicolas Maduro earlier said in a state television address that Chavez's body will be embalmed and kept on permanent display much like communist leaders Lenin and Stalin.
"It has been decided that the body of the comandante will be embalmed so that it remains eternally on view for the people at the museum," said the likely successor of Chavez, Maduro.
A museum named Museum of the Revolution will also be built in Caracas marking the 1992 military coup and Chavez's body will be placed there, said Maduro.
More than two million followers have already paid their tributes to the socialist leader at a military academy.
"I have come to give thanks. Thanks to the president I always got my pension. When we heard the news of his death it was like a hurricane hit us," said 70-year-old Inez Delgado, wiping away tears.
Meanwhile, under the Venezuelan constitution, fresh elections should take place within 30 days of the death of the president. Authorities say it is difficult to organise the elections in such a short period as Venezuelans are struggling to recover from the shock of their leader's death.
Maduro will take over as interim president later in the day, confirmed the Speaker of the National Assembly, Diosdado Cabello.
Local reports suggest that Maduro remains the favourite to succeed Chavez and is widely tipped to win the elections.