Venezuela has launched two days of military exercises, in an apparent effort to deflect growing domestic and international criticism of the reign of its president, Nicolas Maduro. Troops have been deployed at "every strategic region" in the country, including the capital Caracas, in what the military is describing as its largest-ever exercise.
The official reason given for the deployment is to ready the army for an invasion by the US, which labelled the small South American nation a threat to national security last year. However, many commentators believe it's an attempt to shore up Maduro's failing regime.
Media reports of the country's deepening year-long economic crisis, which is leaving supermarket shelves empty and medicine in short supply, have been increasing. The oil-rich nation is experiencing regular power blackouts, and the government has asked civil servants only to attend work on Mondays and Tuesdays to conserve electricity.
"Venezuela is threatened," claimed the defence minister Vladimir Padrino López on state television on 19 May. "This is the first time we are carrying out an exercise of this nature in the country. In terms of national reach, it's going to be in every strategic region."
According to Sky News, Venezuelan state television is showing "Russian-made Sukhoi Su-30MK2 strike jets and other aircraft", alongside tanks and troops. Up to 160,000 military personnel are taking part in the exercises, alongside 350,000 reservists and pro-government militias.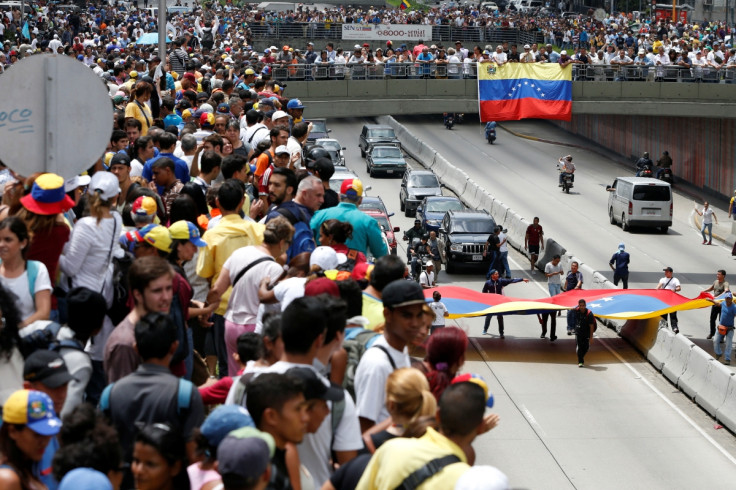 Maduro, a former vice-president, stepped into the power vacuum left by the death in 2013 of Venezuela's socialist leader Hugo Chávez, but his leadership has lacked the Chávez's charisma and has been beset by economic failures and increasing public backlash. This week, he declared a 60-day state of emergency, which granted extra powers to the police and the military.
On 4 May, the news agency Reuters reported a poll from the Caracas-based firm Datanalisis, said that 68.9% of Venezuelans said Maduro should resign this year or be recalled through a referendum. A petition circulated by the political opposition asking for a referendum has reportedly attracted 1.8m signatories.