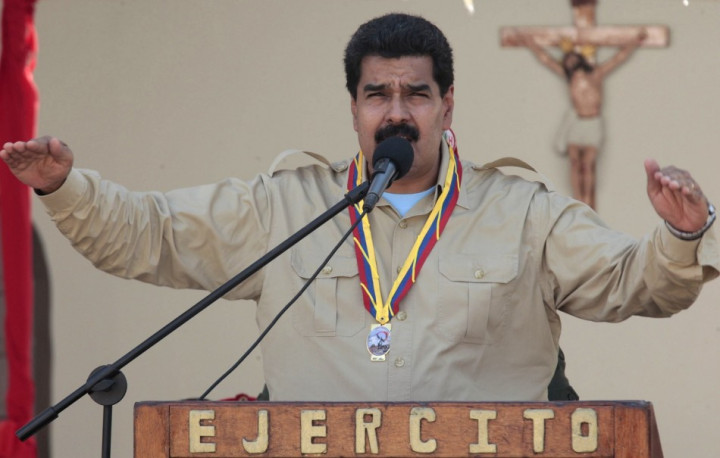 A Venezuelan television channel is facing a hefty fine over government allegations that it "provoked anxiety" in the population with a report on the country's economic difficulties.
The decision came shortly after President Nicolas Maduro ordered the expulsion of three US diplomats accused of sabotaging the economy.
Venezuelan telecoms regulator Conatel said it was considering sanctioning Globovision over a news report about shortages of basic goods and motor vehicles.
Conatel director Pedro Maldonado said that Globovision, an independent broadcaster recently bought by a businessman with government sympathies, could be fined up to 10% of annual revenue.
Since the election in April, Maduro has blamed a rightwing US conspiracy for the worsening state of his country's economy.
Annual inflation stands at more than 45% and shortages of power supplies, basic goods and food occur on regular basis. The government has recently taken over a toilet paper factory to tackle a national scarcity.
The pro-business opposition led by defeated presidential challenger Henrique Capriles blames mismanagement and corruption for the socialist state's difficulties.
Maduro blames Capriles and the US.
The president announced that US diplomat Kelly Keiderling and consular officers David Moo and Elizabeth Hoffman were to be expelled for allegedly taking part in an extreme-right plot to damage Venezuela.
"Out of Venezuela! Yankees go home! Enough of abuse against the dignity of a peace-loving nation," Maduro said on a live TV appearance.
He claimed that the diplomats were dedicated to financing extreme rightwing forces in Venezuela in a plan to sabotage the electricity network and the national economy.
"I have proof here in my hands," he said. He did not go into detail but gave the three 48 hours to leave the country.
"We completely reject the Venezuelan government's allegations of US government involvement in any type of conspiracy to destabilise the Venezuela government," the US Embassy said
Capriles described the expulsions as "pure smoke to mask that [Maduro] can't manage the country".
A former bus driver, Maduro came to power after the death of his mentor Hugo Chavez. He has claimed that authorities foiled five US-backed attempts to assassinate him.