Viagra is being used to treat malaria by increasing the spleen's ability to filter out the disease from the blood.
In what scientists have called an "astonishing discovery", the team found that they were able to slow the spread of malaria by making the parasite cell that causes malaria more rigid.
The researchers, from CNRS, INSERM, Université Paris Descartes – at the Institut Cochin – and the Institut Pasteur, published their findings in the journal PLOS One.
Plasmodium falciparum – the parasite that causes malaria – has a complicated development that is partially completed in both humans and the anopheline mosquito.
Treatments currently target the asexual forms of the parasite that cause symptoms, but not the sexual forms that are transmitted from a human to a mosquito when it bites. To eliminate the disease, scientists must work on developing treatments that target sexual forms in order to block transmission and therefore prevent dissemination within a population.
Sexual forms develop in the bone marrow of humans before being released into the blood, at which point they become accessible to mosquitos.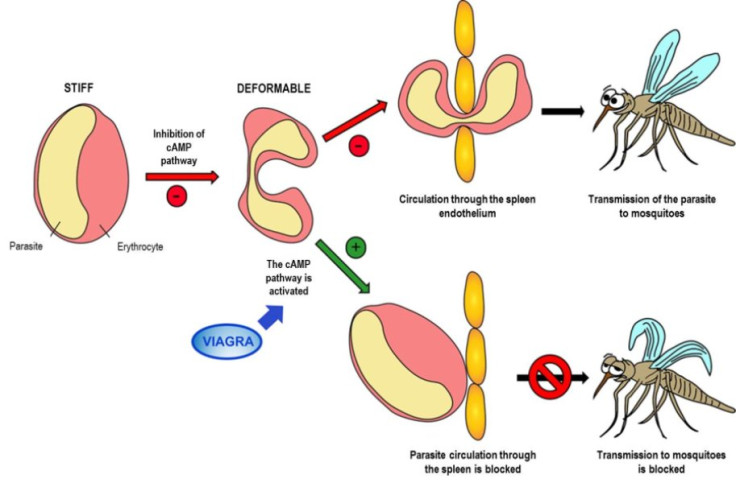 However, the circulating cells – infected or not – are deformable, meaning they cannot be cleared by the spleen, which only retains stiff or abnormal cells. Infected cells can easily pass through the spleen and persist in blood circulation.
The researchers showed that the deformity of the cells is regulated by a signalling pathway involving cAMP. When the cAMP molecules accumulate, the cells become stiffer. They then identified several pharmacological agents that increase stiffness – one of which being Viagra.
Scientists say that modifying the active substance in Viagra to block its erectile effect could result in a treatment to prevent transmission of the parasite from humans to mosquitos. If the cells were not deformable, they would be cleared by the spleen before the mosquito bites and malaria is transmitted.
"Our molecular observations have the potential to be translated into therapies for blocking malaria transmission by demonstrating that raising cAMP levels with sildenafil also known as Viagra renders mature gametocytes rigid," the authors said.
"These findings provide the proof of principle that deformability of circulating gametocytes is targetable by pharmacological agents and as such, it provides a novel approach to prevent the spread of parasites."