Follow live coverage of deadline day in the summer transfer window here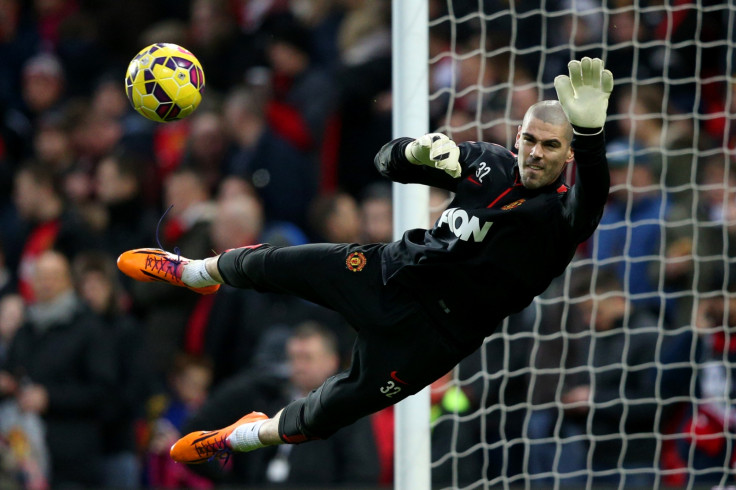 Manchester United goalkeeper Victor Valdes has sent a veiled message over his future after choosing a picture of the Premier League giants' crest as his Facebook cover photo. The former Barcelona star was expected to move to Besiktas last weekend but the deal collapsed at the very last minute because the Turkish side decided to change the terms of the transfer and back out of the agreement.
The Spaniard's future at Old Trafford had been under scrutiny since the summer after manager Louis van Gaal left him out of the first-team squad for the pre-season squad after he had refused to play for the Red Devils' under-21 side. The Dutch boss then urged the player to find a new club to continue his career despite having signed him on a 18-month contract. He had previously handed him the chance to complete his rehabilitation from a serious knee injury at the club's training ground due to his good relationship with Valdes following their spell together at Barcelona.
"Valdes is not selected [for the tour] because he doesn't follow my philosophy. The philosophy is how you play football and how you maintain your match rhythm," Van Gaal was quoted by Goal. "He refused last year to play in the second team. There are a lot of other aspects in the philosophy how you have to play like a goalkeeper at Manchester United. When you are not willing [to apply] the principles of that philosophy there is only one way, and that is out."
Mundo Deportivo last Friday reported that Valdes' tumultuous spell at Old Trafford ended its final chapter after the goalie agreed a move to Besiktas – with the player expected to travel to Turkey on Sunday, 30 August, to undergo the medical. But the Turkish side decided to jettison the deal at the very last minute to leave him in limbo with just days to the end of the transfer window.
Reports have since linked Valdes with both Watford and Marseille but the goalkeeper added fuel to speculations after choosing a picture of the United crest as his Facebook cover photo – with some interpreting it as a sign he could finally be staying at Old Trafford following the club's failure to sign Keylor Navas and sell David De Gea to Real Madrid on the Spanish transfer deadline day. But after Anders Lindegaard joined West Brom, van Gaal may have to reconsider his plans and give either De Gea or Valdes a new chance to fight with Sergio Romero for the number one role.