Victor Valdes: Ex-Barcelona keeper 'was close to retiring' before Manchester United move
Follow IBTimes UK's LIVE blog of transfer deadline day news.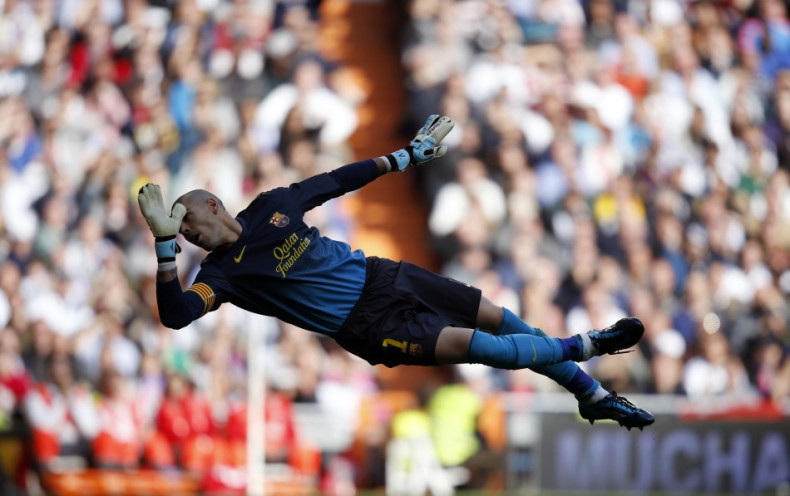 Manchester United goalkeeper Victor Valdes has revealed "he was close" to ending his career while he was going through a 10-month rehabilitation period following a serious knee injury but decided to keep playing because he has three children to support.
The Spain international required surgery after he picked up the injury in his right knee during a La Liga game in March last season against Celta Vigo, while he was at former club Barcelona.
With his contract at the Camp Nou set to expire last summer, Valdes was expected to join Monaco on a free transfer but the Ligue 1 side backed out of a contract agreement due to his injury.
Valdes was then linked with a number of Premier League clubs, including Liverpool.
But having handed the Spaniard his debut at Barcelona during his time in La Liga, Louis van Gaal offered him the chance to complete his rehabilitation at Manchester United's training ground in October. The ex-Barca goalkeeper later signed an 18-month contract at Old Trafford at the start of the January transfer window.
During an interview with Spanish newspaper El Pais, the 'keeper opened up about his tough 10 months on the sidelines, revealing he considered retirement despite only being 32 years old at the time.
"I was close to retiring but I have three children," he said.
While speaking about the injury he picked up last season, Valdes said: "I knew I was going to hurt my knee. Everything was going too well for me and I knew I was going to hurt it. I knew from the beginning it was broken. When I tried to support the leg I heard a crunch in the knee and I knew it was broken."
With David De Gea immovable between the sticks at Old Trafford, Valdes made his United debut during the 2-1 Under-21 win over Liverpool on 26 January but is yet to make his first-team start.
Even though he used to be considered one of the best 'keepers in the world before his injury, Valdes appears to have accepted his secondary role and does not hesitate to praise his teammate.
He said: "David is the best goalkeeper in the world right now, in terms of pure performance."