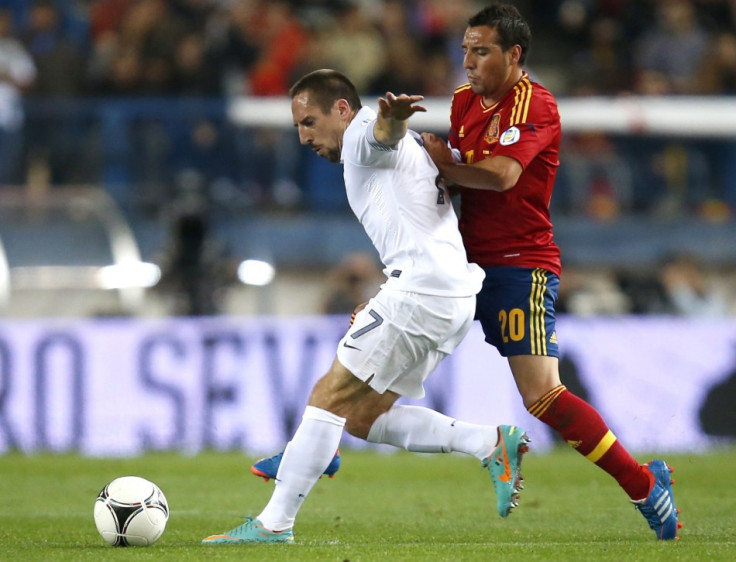 Vicente del Bosque has insisted that both Chelsea striker Diego Costa and Arsenal star Santi Cazorla remain in his plans for Euro 2016 despite both missing his most recent Spain squad with injuries. Del Bosque also expressed his support for Costa despite many in Spain wanting the Chelsea hitman dropped after his latest controversial outburst at Everton.
Del Bosque named his final squad before the Euros last Friday ahead of upcoming friendlies with Italy and Romania. Athletic Club Bilbao's in-form striker Aritz Aduriz has filled in for Costa in attack, while Barcelona's Sergi Roberto receives an inaugural call-up alongside Fabregas, Koke, Thiago Alcantara, Isco, David Silva and Juan Mata in midfield.
Competition for a place in the middle of the pitch looks intense, especially with the currently injured Andrés Iniesta being all but guaranteed a spot for the Euros. Del Bosque has said he does not plan to make too many changes between now and then, specifically mentioning Costa, Cazorla, Iniesta and Sevilla winger Vitolo as four names that are missing in his latest squad who are still in his plans.
"I imagine that in the final squad we will have quite a few of those who are there now, but I don't think it will be exactly the same," Del Bosque said during an interview with Mundo Deportivo. "There's two months ahead and there can be changes or injuries or some of those who are injured now could recover, like Santi Cazorla, Vitolo, Andres Iniesta, Costa."
Reports in Spain suggested that Del Bosque had snubbed Costa as punishment for his behaviour at Everton. However, the manager insists it is just a rest due to injury issues, playing down the Chelsea striker's latest controversies.
"From what I can see, [some] have demonised [Costa] a lot and maybe he has helped them to do that. But, honestly, the latest incident was not that serious. Furthermore, he was putting in the effort to play because [the FA Cup] was Chelsea's last chance to win something and he plays with great excitement. That's a good part of his play . He also has other things that are bad, but I don't want him to change.
"If we called him it's because we already know him. I don't like that he does ugly things, but the other day wasn't that bad."
Costa faces big competition to make the Euros squad after the surprising form of 35-year-old Aduriz. Del Bosque admitted that the Athletic striker has forced his way into his plans, alongside Alvaro Morata and Paco Alcacer, after he had scored 31 goals in 48 appearances this term.
"When we went out the World Cup in Brazil we made our projections for the future and everything went through Paco Alcacer, Diego Costa and Alvaro Morata," the boss said. "They were the three strikers we planned on, but Aduriz has joined them by merit and because he is playing well."