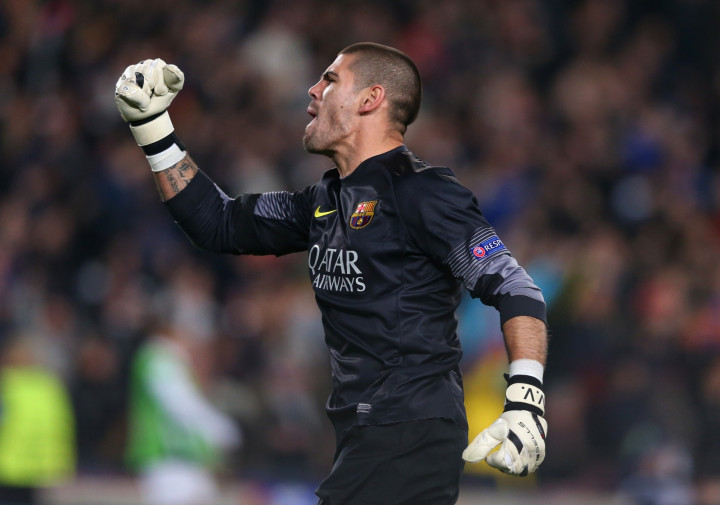 Spanish international goalkeeper Victor Valdes has not been offered a trial with Liverpool, according to the player's agent Gines Carvajal.
The ex-Barcelona stopper is a free agent after seeing his move to Monaco fall through during the summer transfer window. He's yet to find a new club despite his wealth of experience.
Reports had suggested that Valdes, 32, has rejected a four-day trial with Liverpool as the club looks to bolster their options in goal as Simon Mignolet continues to come under pressure at Anfield.
But Carvajal told SPORT: "Liverpool have not offered us the chance to train with them for four days.
"And we have not rejected the offer, because it is false. That proposal was never made to us by Brendan Rodgers nor by Liverpool at any moment."
Liverpool manager Brendan Rodgers has told Mignolet to improve his performances amid a string of uncertain moments since joining from Sunderland in the summer of 2013.
The Belgian keeper is unperturbed by suggestions his future at Liverpool is under scrutiny, and is unconcerned by rumours the club could sign free agent Valdes – a three-time Champions League winner.
"If I had to look into all the players who are linked with Liverpool, then there would be another team on the pitch! Every week there would be a different 11 playing," Mignolet said last month.
"If you play for a big club, you have to accept that is the way it is, but I don't read anything into that. I am here to play my game and to do my best every week. I can only work hard in training, be positive, and make sure I play well.
"The only pressure is what you put yourself under. What is pressure? Pressure is what is happening in Iraq at the moment where there is a war. That is pressure.
"We are football players and we are here to do our best. I can only do my best, work hard in training, be positive and confident and believe in myself. That is the only thing I can do."
Former defender Jamie Carragher believes Mignolet is justifiably under pressure at the Merseyside club and is calling on the 26-year-old to rapidly improve in order to save his career with the Reds.
"Up until now in his Liverpool career he hasn't made those big saves," said Carragher. "If it continues I can see Liverpool looking for another goalkeeper.
"There was talk of Victor Valdes because he is a free agent, but he has got to improve."