Victoria Pendleton believes Becky James' double world championship gold will be the first major success of many in the career of the 21 year old Welsh rider.
After winning bronze in both the team sprint alongside Victoria Williamson and the 500m time trial, the weekend saw her beat Kristina Vogel in the individual sprint final before claiming keirin gold on the last day of competition.
With Pendleton, a nine-time world and twice Olympic champion, having retired after London 2012, James appears ready-made to take the mantle as the leading light in women's British cycling.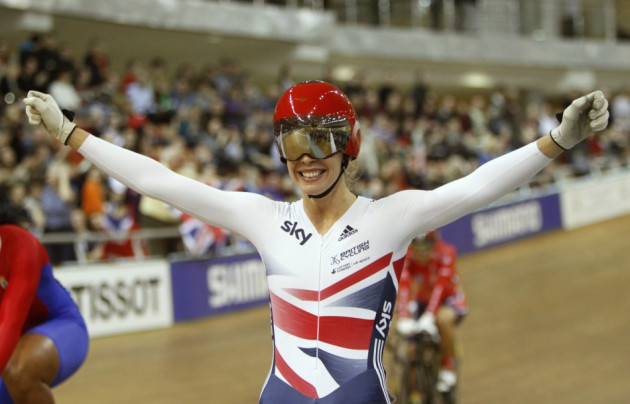 Pendleton told the BBC: "When I won my first world gold, which also happened to be the sprint title, it was the first time I felt that I really belonged in the team.
"Up until then, I felt I shouldn't really be there because everyone else had an Olympic or Commonwealth title.
"But by winning that medal, it was like I earned my position and I had finally arrived on the scene."
"Becky is a lot more confident than I am," she added. "She takes a lot in her stride and she has fantastic support from the coaches and her family and friends which is a great thing to have.
"You could see after the women's sprint final how excited and bubbly she was. That's her all over. She really wasn't expecting to win gold and she was a bit overwhelmed.
"She's a far better example of what you need to be world champion than I ever was. She's a lot more comfortable in a competition environment.
"Her performances in Minsk have shown that she clearly deserved to be competing. She's now the number one rider in the country and it's about time she had an opportunity to shine."
With injury and illness having affected her maiden year as a senior, leading to her omission from the GB cycling squad for the Olympic Games, James is attempting to make up for lost time.
Along with Laura Trott, who failed to retain her omnium title after claiming a silver medal in Minsk, James leads the new breed in female British cycling, and claims she has time to emulate Pendleton's achievements.
"It doesn't feel real to me, I can't believe it's happened I really can't," she said. "I just wanted to defend that first place and I knew that if I held my position it would be a struggle for everyone else to get round. I dug in and it hurt so much but I just can't believe it.
"It's going to take a while to sink in, it feels like a complete dream but it means so much and I want to thank everyone for helping me get here in this past year, it's been really tough but we finally made it.
"Vicky won so many world titles, so that's a lot to live up to and I've got a few years ahead yet."