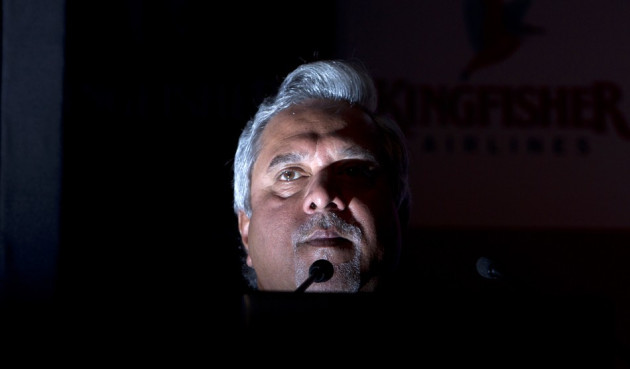 A non-bailable arrest warrant has been issued for Vijay Mallya, the owner of the troubled Indian airline Kingfisher Airlines, after cheques issued by his company allegedly bounced.
Arrest warrants for Mallya, who is known as the "King of Good Times", and other four executives of the company were issued by a local court in the southern Indian city of Hyderabad.
The complaint was lodged by GHIL, the operator of the Hyderabad International Airport, for non-payment of bills worth 103m rupees ($1.9m; £1.2m). The bills were for airport user charges covering parking fees for jets and landing charges.
"Since they failed to appear before the magistrate, the court has ordered issuance of NBW (non-bailable warrants) against Kingfisher Airlines (KFA), Vijay Mallya and four other KFA officials," said a statement from GHIL.
Mallya, who owns a Formula One team, Force India, was said to be out of the country. Kingfisher has now suspended operations until 20 October. Flights have already been grounded for almost two weeks because of non-payment of dues and a partial lockout.
The debt-ridden airline has been struggling with cash shortages and has reported losses for the past five years. The company owes billions of dollars in taxes, loans from banks and airport fees. It has not even paid its employees for several months.
"At this time, the airline is hopeful of resuming operations starting 21 October," said Kingfisher.
Hyderabad police is yet to receive the arrest warrant. "We will see what exactly are the instructions," Hyderabad's police chief Anurag Sharma told AFP.