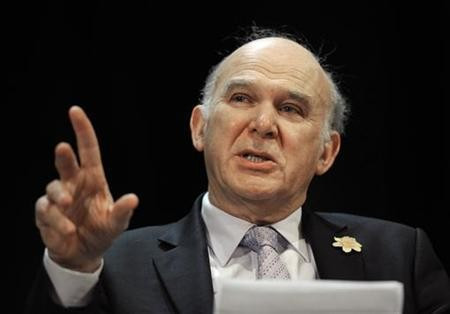 Britain's biggest banks are lying that there is no demand for lending, from small to medium enterprises, as 'challenger banks' are funding SMEs more than ever , says UK business secretary Vince Cable.
Speaking exclusively with IBTimes UK, Cable says Britain's Funding for Lending Scheme (FLS) is working for a number of institutions but for the country's biggest banks, the money is still not filtering through to smaller firms.
"We desperately need challenger banks as there is a distinct problem with SME lending from the incumbent institutions," said Cable.
"We are told by the big banks that there is a lack of demand from SMEs for financing but this is absolute nonsense. The only way for lending to filter through to SMEs is by putting new banks on the high street, such as Aldermore and other non-traditional institutions, in order to increase competition."
Challenger banks are new and smaller institutions that test the dominance of traditional high street lenders. Many have been borne out of the breakdown of the huge money machines which were torn apart by the financial crisis and have won praise from all sides of the political spectrum.
Aldermore Bank was the first bank to be created during the credit crisis in 2009, which challenged the UK's incumbent banks for lending to SMEs.
Initially, it started off with £50m ($76m, €58m) worth of customer savings after taking over a small investment bank called Ruffles. It converted into Aldermore in 2009 and the bank's balance sheet is now worth over £2bn.
Furthermore, its lending to SMEs has now reached a benchmark £500 billion.
It is regulated by the Financial Conduct Authority (FCA) and is registered under the Financial Services Compensation Scheme, which means customers' savings are protected for up to the statutory limit of £85,000.
"I don't think the FLS needs more prompts or tweaks because, in general, challenger banks are demonstrating that business lending can work," said Cable.
"Aldermore's success with the FLS shows that the scheme can be adapted to work for institutions."
At the end of April this year, the UK Treasury and Bank of England gave the FLS a significant makeover, so it focused on improving credit conditions for small and medium-sized enterprises in a bid to reverse the on-going decline in business lending.
FLS has been extended by a year to last until January 2015, has had its incentives increased for lenders to provide more credit to smaller firms, and will now also be open to some non-bank lenders.
The scheme has been criticised amid falling bank lending to SMEs - which tumbled by £4.8bn in the three months to February - and because it has only brought down mortgage costs, not the affordability of business credit.