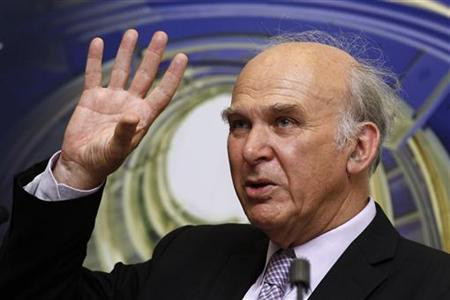 The Coalition's Business Secretary, Vincent Cable, has come under serious criticism after it emerged that he told undercover reporters that he had "declared war" on Rupert Murdoch.
Mr Murdoch's News Corporation is currently attempting to takeover BSkyB. The corporation already owns a 36 per cent stake in the company.
Today News Corp was granted permission by the European Commission to go ahead with the takeover, however regulatory approval still needs to be granted by the British authorities.
Two undercover reporters from the Telegraph spoke to Mr Cable, posing as Liberal Democrat voters, and recorded the conversation. This morning it was reported that Mr Cable said that the relationship between the Liberal Democrats and their Conservative colleagues was "like a war" and that he could leave at any time and so bring down the Coalition.
However now it has emerged that Mr Cable also said, "I have declared war on Mr Murdoch and I think we are going to win."
Speaking of the proposed takeover of BSkyB by News Corp he added, "I have blocked it using the powers that I have got and they are legal powers that I have got. I can't politicise it but from the people that know what is happening this is a big, big thing.
"His whole empire is now under attack... So there are things like that we do in government, that we can't do... all we can do in opposition is protest."
News Corporation said that it was "shocked and dismayed" at Mr Cable's comments and that the news raised concerns about "fairness and due process", while the Opposition Labour Party has called on Mr Cable to stand down or at least relinquish responsibility for the BSkyB decision, reports the BBC.