Virat Kohli: India Test captain admits he 'got into cricket' because of his idol Sachin Tendulkar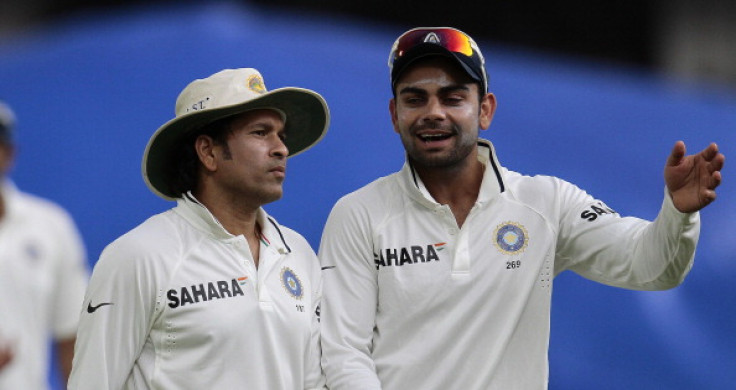 India's batting superstar Virat Kohli is eagerly awaiting the release of the biopic of his idol Sachin Tendulkar and admits that that he got into cricket because of the batting legend. The India Test captain was in the financial capital Mumbai to launch a new initiative called Virat Fanbox – to connect with his fans – where he spoke of his adulation and respect for the legend.
"Everyone knows who I idolised as a kid. He (Sachin Tendulkar) will always remain my idol because of whom I came into cricket. I am very eagerly looking forward to the biopic on Sachin Tendulkar, I have idolized him. That will be something which will be very interesting to watch", Kohli said, according to NDTV.
In fact, there are three biopics on Indian cricketers scheduled to be released this year. The other two films are based on current one day international captain Mahendra Singh Dhoni and the other on former cricketer Mohammad Azharuddin. Tendulkar's biopic is titled, Sachin: A Billion Dreams.
The Royal Challengers Bangalore skipper stressed that he was keen to watch all the three biopics and explained, "I'm looking forward to all three [films], the one on MS [Dhoni] which will be a different one, and on Mr Azhar as well."
The 27-year-old has been in sublime form of late. He bagged the man of the tournament award in the recently concluded ICC T20 World Cup 2016 and is currently the leading scorer in the ongoing Indian Premier League with 367 runs. He also admitted that being honest on and off the field has helped him improve as a player, win over fans and change their perception about him.
"On the field if you be the way you are off the field and play with full dedication, people will accept and be connected to you. Now I am happy that people accept me well and happy that I have been able to change the perception of other people. Over a period of time I have learnt that if I am honest in my work it will be noticed by other people and other things that they had in mind will be sidelined," he said.
© Copyright IBTimes 2023. All rights reserved.