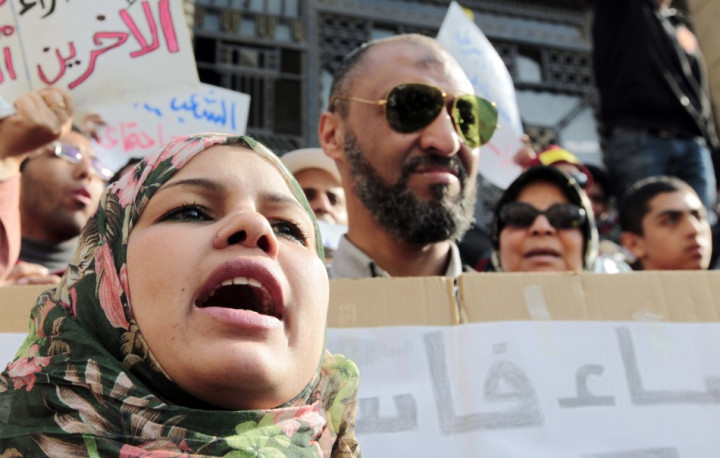 An Egyptian revolutionary group has called for an investigation into allegations that security authorities have threatened to conduct virginity tests on women arrested during the Abbasiya Square clashes in Cairo in which 20 people were killed.
Activists said that "army-sponsored thugs" attacked a camp in Abbasiya Square near the Defence Ministry, where demonstrators were protesting against the disqualification of Salafi leader Hazem Salah Abu-Ismail in the forthcoming presidential race.
Website El Badil reported that a volunteer paramedic witnessed soldiers threatening to conduct virginity tests on two nurses who were working with him at the field hospital.
A student who was injured during the clashes said military police stopped him and two nurses on Friday and harassed one of them, threatening to carry out the tests.
The Union of Revolution Youth said it would be a "catastrophe" to find out that the military has once again conducted such tests on female protesters.
"Testing the virginity of Egyptian girls is a procedure we have never heard of except under the rule of the military," the group said in a statement reported by Al-Masry Al-Youm.
Islamist presidential candidate Mohamed Selim al-Awa called virginity tests a crime.
"Virginity tests are a crime of sexual assault on a female against her will," he said. "This is extremely disturbing news. Officials cannot remain silent about this serious accusation."
Reports of mandatory virginity tests came out after soldiers loyal to the ruling Supreme Council of the Armed Forces (Scaf) broke up a sit-in in Tahrir Square on 9 March. A number of protesters were arrested and the female detainees were subjected to virginity tests. The case sparked controversy, with human rights organisations in Egypt and abroad harshly condemning the practice.
Cairo's administrative court has decided to ban virginity tests in military prisons after the case of Samira Ibrahim, who was the only woman to file a lawsuit against the military for the incident. She was taken to Cairo's notorious C28 military prosecution where she was detained along with 20 other women and subjected to the tests.
Human rights organisations claim the Egyptian military has used the practice widely as a punishment.