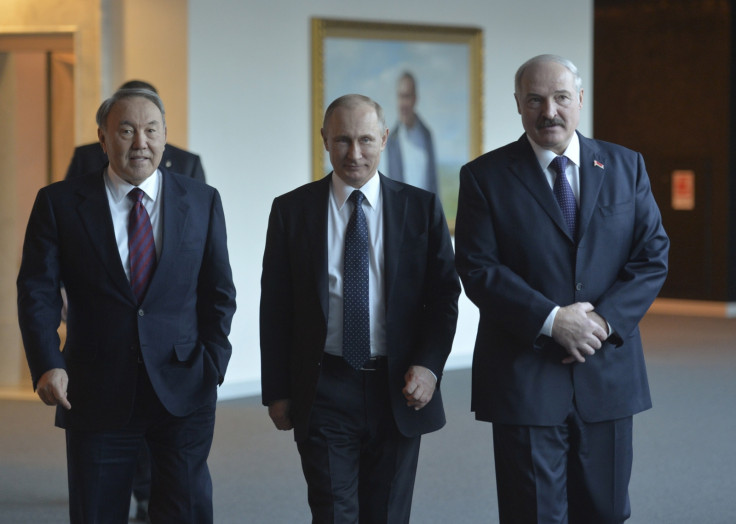 Russian President Vladimir Putin has called for a regional currency union with fellow Eurasian Union members Belarus and Kazakhstan.
Putin, who was recently rumoured to have fallen ill or even be the subject of a coup following a prolonged absence from the public stage, made the proposal at a meeting with presidents from both countries in Kazakhstan.
"The time has come to start thinking about forming a currency union," Putin said after the meeting in the Kazakh capital of Astana. "Working shoulder to shoulder, it's easier to react to external financial and economic threats and protect our joint market."
While Putin did not outline a timeframe for any possible currency union, it would take years of planning and could require collaboration on monetary policy.
Kazakhstan's President Nursultan Nazarbayev did not comment on the proposal but his administration has previously said that monetary synchronisation would be required before any currency union initiatives could go ahead.
The Russian ruble has suffered a turbulent period in which its value declined by around 40%, a result of falling oil prices and economic sanctions imposed by the United States and European Union over Moscow's alleged role in the Ukraine crisis.
The Belarussian ruble was devalued in January while the Kazakh tenge could be devalued in the coming weeks, as the former Soviet countries struggle economically.
The Eurasian Economic Union was launched at the start of the year amid much fanfare. The post-Soviet trade bloc has a market of more than 170 million people but it was launched against a harsh economic backdrop and has yet to prove itself as a rival to established trading unions like the European Union.
A number of analysts have predicted that the touted currency union would not come to fruition, with both Belarus and Kazakhstan showing little desire to join.