Egypt and Russia strengthen economic ties with free trade zone after Vladimir Putin visits Cairo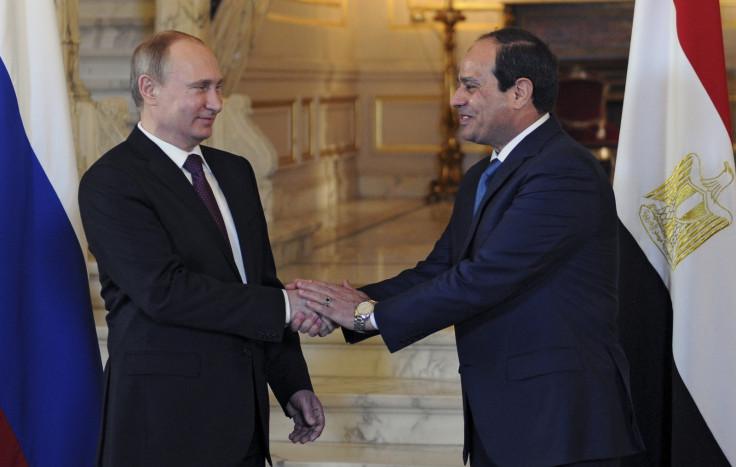 Egypt has agreed to establish a free trade zone with the Russia's Eurasian Economic Union, Egypt's president Abdel Fattah al-Sisi has announced in Cairo.
The international trade union was launched by Russia at the start of 2015 and incorporates Armenia, Belarus and Kazakhstan.
"We have reached an agreement to establish a free trade zone between Egypt and the Eurasian Economic Union," Sisi said on Tuesday 10 February.
The two countries have strengthened economic ties since Russia was slapped with sanctions by the European Union and the United States after it annexed the Black Sea Crimea peninsula from Ukraine in March 2014.
Putin's visit to Cairo comes at a time when the Russian president has seemingly run out of friends on the world stage and wants to prove he is not an isolated figure.
Egypt is also seeking to make more friends on the world stage, after falling out with the United States over the coup that led to the ouster of Egypt's first elected president Mohamed Morsi in 2013.
Energy and trade deals done
The two countries did more than $4.5bn (£2.9bn, €4bn) in trade last year, Putin said, marking an 80% increase on trade in the previous year.
At the end of a two-day visit in which he presented Sisi with a Kalashnikov rifle, Putin had agreed Russia would build the first nuclear power plant at Dabaa, on the Egyptian coast.
Meanwhile, the two countries agreed to create a Russian industrial zone close to the Suez Canal. They would also work together on a range of transport, infrastructure, manufacturing and oil projects, in addition to the nuclear deal.
© Copyright IBTimes 2023. All rights reserved.