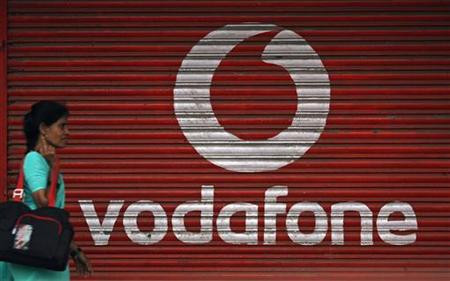 Shares in Vodafone were up on the FTSE 100 in morning trading after the telecoms giant reported a rise in revenue and operating profit in the full year ended 31 March.
Group revenue was reported as rising 3.2 per cent to £45.9 billion, while adjusted operating profit increased 3.1 per cent to £11.8 billion.
The group said that it would be raising its final dividend 7.1 per cent to 6.05 pence per share.
During the year Vodafone saw revenue from its Emerging Markets business grow 11.8 per cent, while the Data business saw revenue growth of 26.4 per cent.
In addition the group said it had increased smartphone penetration in Europe from 11.6 per cent a year ago to 18.7 per cent. Vodafone also said it expected to raise £14.2 billion from the disposal of its interests in China Mobile, SoftBank and SFR.
Looking ahead Vodafone predicted operating profit for the next financial year will be slightly lower, ranging between £11.0 billion and £11.8 billion, thanks mainly to the loss of its £0.5 billion share of profits from its disposed stake in SFR.
Vittorio Colao, Chief Executive of Vodafone, said, "The past year has seen further strong performances in our key revenue growth areas of data, emerging markets and enterprise, and we have gained or held market share in most of our key markets. Continuing network investment is an important differentiator for Vodafone, improving the customer experience and giving us leadership in smartphone penetration and in customer take up of data plans. We enter the new financial year well positioned to deliver further value to our shareholders."
Richard Hunter, Head of UK Equities at Hargreaves Lansdown Stockbrokers, commented, "Vodafone has had a busy year strategically, but has been able to keep its eye on the ball in posting another set of robust numbers.
"The disposal programme has been in line with the commitment to realise maximum value from non-controlled assets, which in turn will allow an increase in the buyback scheme in conjunction with paying down some debt. In addition, the increasing popularity of smartphones and tablets is driving an increase in data service income, whilst the penetration of this market is showing some promising signs. Set against this, the fiercely competitive nature of the industry remains intense, and there is a cost involved in promoting customer upgrades to smartphones. The regulatory environment also remains challenging, as does the economic backdrop in parts of Vodafone's European operations.
"After a strong run over the last year (shares up 25% versus a FTSE100 gain of 13%), the shares have stuttered somewhat of late, having given up 8% over the last three months (FTSE down 3%). Nonetheless, the upbeat management outlook, future prospects for growth and an attractive dividend yield of 4.9% should underpin the current consensus of the shares as a buy."
By 10:30 shares in Vodafone were up 2.11 per cent on the FTSE 100 to 171.80 pence per share.