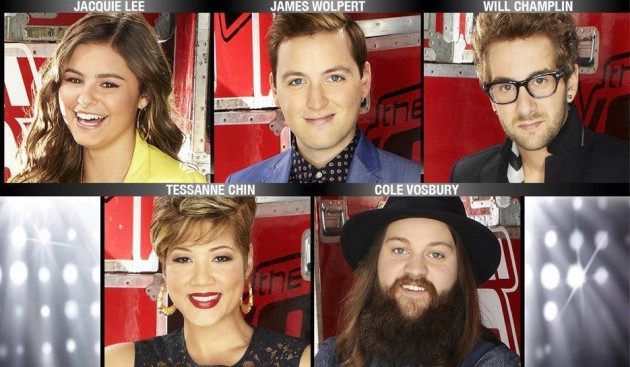 Let's start with the big kicker: for the first time in the past three seasons, Blake Shelton will not be the winning coach of The Voice. And that's because Blake lost his sole remaining performer, Cole Vosbury.
Tessanne Chin, Jacquie Lee and Will Champlin made it through to the finals of The Voice on Tuesday after America voted to cut loose Cole Vosbury and James Wolpert, reports the Wall Street Journal.
Adam Levine had to say goodbye to James Wolpert whose social media fan support, that saved him last week, was not big enough to carry him through to the finals, states a report by Wetpaint.
"Adam, thank you. You've been the greatest coach of all time, and I'm so happy I went with you," James said to his coach as he left the stage. "I've had the time of my life." Adam hugged James and told him he couldn't have done better with his performance and was "so so proud" of him.
Coach Blake now joins Coach CeeLo as a spectator after his dark horse (Cole), was sent home.
"I'm so honoured to have had the chance to work with you," Cole told his coach. "I know I'm gonna have your guidance for the rest of my life."
Team Adam's Will Champlin was the last artist to step into next week's finale.
So the top three artists of The Voice 2013 are:
1. Team Adam: Tessanne Chin
2. Team Christina: Jacquie Lee
3. Team Adam: Will Champlin
Last season's winner Danielle Bradbery and finalists Michelle Chamuel and the Swon Brothers performed their new singles on Tuesday's show and also shared the latest developments on their professional fronts.
Season 3 winner Cassadee Pope, one of the show's more successful alums, also performed, singing "I Wish I Could Break Your Heart" from her debut country album, reports WSJ.
This season's top three will perform in a two-hour show next Monday, ahead of the crowning of a winner on Tuesday.