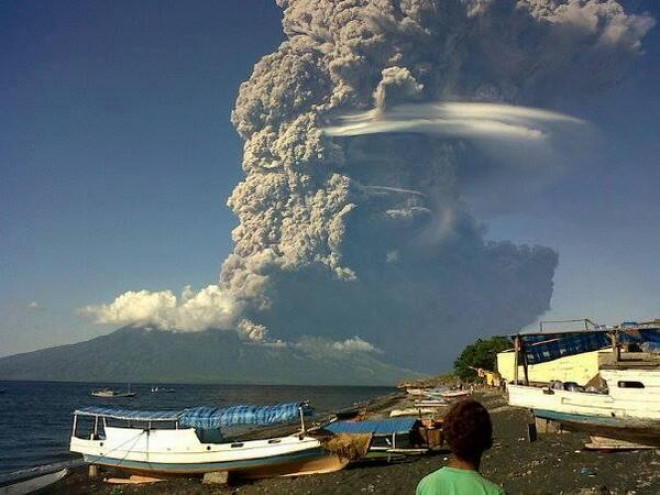 A volcanic eruption in the Pacific Ocean has created a huge ash cloud that is disrupting flights across northern Australia and between Australia and south-east Asia.
Mount Sangeang in Indonesia erupted on Friday, sending a massive plume of ash between 6-20km (up to 12 miles) into the atmosphere. The cloud is expected to affect flights across the region for several days.
The ash cloud has forced Darwin airport in northern Australia to cancel all domestic flights, and has disrupted flights between Australia and Southeast Asia. International flights to and from Australia to Singapore, East Timor and the Indonesian island of Bali have been cancelled. Flights serving Australian cities as far south as Brisbane could be disrupted.
The volcano last erupted on the same scale in 1999.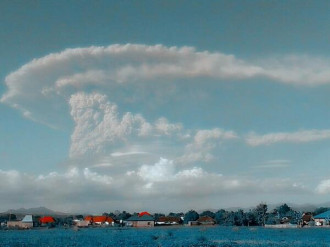 Deputy Prime Minister Warren Truss said Airservices Australia, the nation's air navigation authority, the Civil Aviation Safety Authority and the Bureau of Meteorology are all investigating the cloud.
The Volcanic Ash Advisory Centre manager at the Bureau of Meteorology in Darwin, Emile Jansons, said the ash cloud was already affecting other parts of Australian air space.
"It has currently reached the Australian coast. It has reached the Kimberley coast [in western Australia]. It is spreading east and it may dissipate, so it is not clear how far east it will get. It is not yet clear if it will affect the eastern seaboard."
Jansons said volcanic ash could be hazardous to aircraft but the decision whether to fly was a safety and economic decision that rested with individual airlines.
He told Reuters: "The volcano is undergoing a sustained, rather significant eruption at the moment, so for the last 10 hours we've been observing large masses of volcanic ash being generated. At the moment it has slowed down a little bit since its initial big eruption, but nobody has a very good handle on what this volcano is likely to do in the next 24 hours or beyond."
Based on weather conditions, the ash cloud is expected to dissipate before it reaches Australia's eastern airports and major population cities.