Germany: Drunk Intruder Parties in his Underwear aboard Angela Merkel's Private Jet
Cologne prosecutors investigating how bodybuilder got through security to break into chancellor's plane at military airport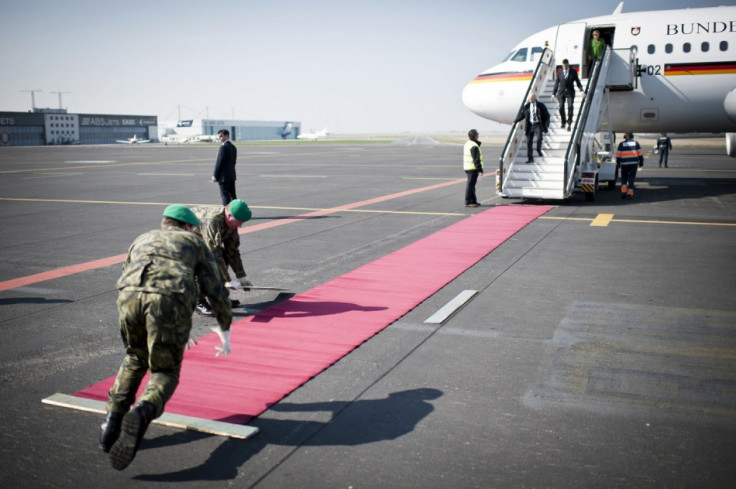 German authorities have launched an inquiry into how a man reportedly drunk and high on drugs dodged airport security to board Chancellor Angela Merkel's private jet and danced in only his underpants in the cockpit for hours before he was apprehended.
A 24-year-old bodybuilder of Turkish descent, whose name was given only as Volkan T, boarded the Airbus 319 in a closed military section of Cologne airport, according to a police report leaked to German media.
Carrying a bag full of marijuana and ecstasy pills he crept on to the empty aircraft and started a one-man party that lasted for at least four hours until he was dragged out by security forces. A police dog bit him in the leg, said the report.
Volkan had reportedly driven to the airport after a quarrel with his girlfriend.
He told a guard at the first security post that he was going to a wedding reception at the airline officers' quarters. Instead, he drove towards the government jet used by Merkel.
He climbed over a barbed wire fence, crawled on to the left wing of the empty plane and got in through an open emergency exit. Once inside he undressed down to his underpants and started dancing through the chancellor's office, a conference room, the main cabin and the cockpit.
He sprayed a fire extinguisher around the cabins, released an inflatable emergency slide and danced on the wing, Der Spiegel said. He caused an estimated €100,000 (£85,600) in damage.
At one point Volkan randomly pushed buttons on the aircraft control panel and inadvertently launched an alarm that alerted security.
That was at 8.40pm, said the report. Three and a half hours later, security forces arrive to pull him off the plane.
Merkel, meanwhile, was at the opera in the Bavarian town of Bayreuth watching The Flying Dutchman.
The suspect was taken to a secure psychiatric hospital.
"Of course we have reviewed our guidelines in response to this and changes are being made," a spokesman for the German Air Force said.
Cologne prosecutors ruled out that Volkan was a terrorist.
"The investigation is focused on the charges of dangerous interference in aviation but also trespassing and damage to property. As part of that probe it's of interest how the accused got onto the site and into the plane," they said.
© Copyright IBTimes 2023. All rights reserved.