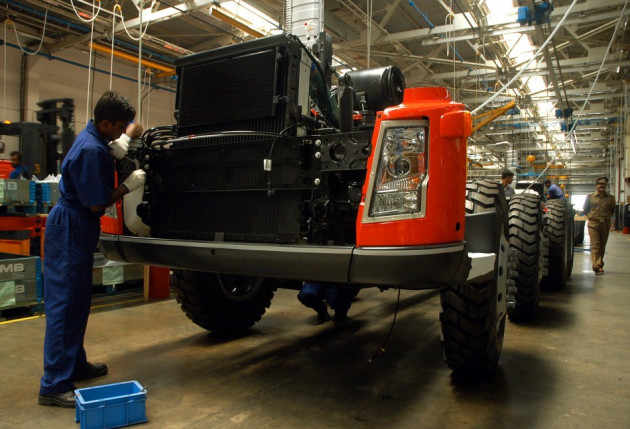 Volvo Group, the world's second largest truck manufacturer, saw its stock surge after posting its highest ever first quarter sales.
Recovering demand in the vehicle maker's European market and a good sales trend in north America helped lift the company, which is operating in a difficult climate for truck manufacturers.
As the on-going eurozone sovereign debt crisis rumbles on with no end in sight and hampers demand, new legislation in Volvo's Brazilian market that requires an engine change in order to meet strict emissions targets is another hurdle.
"In the first quarter, the Volvo Group showed its strength in being a global operation, when setbacks in some of our important markets were offset by positive developments in other markets," Olof Persson, president and chief executive of Volvo, said.
"We will continue to invest to further increase our presence in growth markets by developing new products and further strengthening the sales and service networks."
Volvo stock rose as much as 6 percent in early Stockholm Thursday before retreating to 91.65 by at 0950 GMT. The shares closed at 89.65 on 25 April.
Net sales for the quarter rose by 10 percent, to 78.8bn Swedish krona (£7.26bn).
Order intake in the European market for the first quarter was up 19 percent compared to the previous quarter, to 23,400, after a decline in the last three months of 2011.
Operating profit margin dropped on the previous year to 7.9 percent, from 9.1 percent.
"The lower margin is mainly attributable to the changed market mix with a lower proportion of sales in Europe and Brazil," Persson said.
In Brazil truck engines must meet Euro V standards for carbon emissions compared to Euro III as of the start of the year, which impacted the first quarter and Persson also expects this to affect Volvo's second quarter.
"Consequently we will reduce production in May and June," he said.
"At the same time, the trend in the aftermarket has been strong and sales of spare parts were at an all-time high in March, which is a clear indicator that our customers' fleet utilization and profitability remain strong.
"We are expecting the second quarter to also be affected by the switch-over from Euro III to Euro V standards.
"However, we anticipate that demand will rise again in the second half of the year, once our competitors' stocks of Euro-III trucks have come down and when the new stimulus package for the Brazilian economy and the new favourable financing solutions begin to gain a foothold."