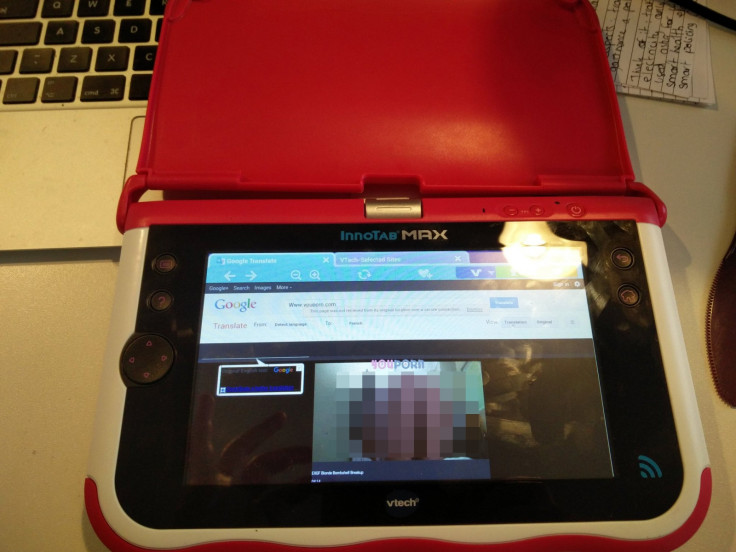 Children's toys appear to be far less child-friendly these days. Amidst reports that internet-connected dolls can be hacked to listen in on kids' conversations, parents have now discovered that a popular brand of tablet designed for three to nine-year olds can be used to access porn without a great deal of effort.
Eva Blum-Dumontet, a research officer at Privacy International, found that she was able to access NSFW (or kids, for that matter) content on VTech's InnoTab Max, a £100 tablet that comes filled with educational apps and games as well as a "kid-safe" internet browser that only provides access to pre-approved web pages.
This means kids using the tablet can't access websites such as Google, that provide a gateway to adult content. However, VTech apparently overlooked the fact that Google Translate offers access to everything the search engine has to offer simply by typing an address into the translation box.
Blum-Dumontet, who claimed to have "zero tech skills", told Motherboard that she was able to gain access to pornographic websites on VTech's tablet under a minute.
"VTech clearly failed to foresee that inappropriate content could be reached on the tablet via Google Translate," she said. "If they could not foresee this, it raises serious questions as to what else they did not foresee when it comes to the toys' security."
Hong Kong-based VTech has already provoked the ire of customers after a huge data breach at the company in November 2015 saw more than six million personal accounts of parents and children being compromised. The hackers were able to easily gain access to chat logs, audio files and even stored photographs from an internal database.
In a statement, the company said it had now removed google Translate from its list of approved sites on the UK version of the InnoTab Max, which is the only region where the workaround appears to work.
"Following a recent media enquiry we were alerted to an unexpected way to use Google's Translate service to circumvent the browser restrictions of our InnoTab Max tablet. It was possible to use Google's Translate service as a conduit to access websites not on the VTech-Approved Sites list thereby circumventing the default browser restrictions," the company said.
"Other versions of InnoTab Max/Storio Max (namely the US, French, German, Spanish or Dutch versions) do not have Google Translate on the VTech-Approved Sites list."
All in-store models of the tablet have now been updated with new approved sites list, meanwhile existing owners will need to power off and restart the device for the update to take effect.
Earlier this week, a damning new report from the Norwegian Consumer Council found that internet-connected toys could be easily hacked to gain access to their built-in microphones and intercept children's conversations.